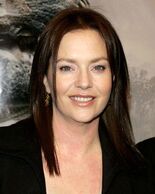 Philippa Boyens was born on New Zealand and is an Academy Award winning screenwriter who co-wrote the screenplay for Peter Jackson's The Lord of the Rings alongside Peter Jackson and Fran Walsh, for which the trio won an Oscar at the 76th Academy Awards in 2004.
She also worked in Jackson's King Kong.
This article is a stub
Boromir says this article is "So small a thing. Such a little thing!"    Please expand it if you can.