Ad blocker interference detected!
Wikia is a free-to-use site that makes money from advertising. We have a modified experience for viewers using ad blockers

Wikia is not accessible if you've made further modifications. Remove the custom ad blocker rule(s) and the page will load as expected.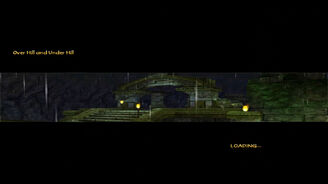 Over Hill and Under Hill is the fifth level in Sierra's game The Hobbit. In the save game option the level is saved as Over Hill.
The mission starts off as getting firewood for one of the Dwarves, only to get separated and fight enemies while trying to get back to Bilbo's group. Bilbo encounters blue-eyed wolves, which are are more stronger than regular grey wolves. Bilbo also must dodge rocks being thrown at him by large Stone Giants. These giants have very good aim, so it is recommended that you keep jumping in order to not get hit.[1]
Quest log
Edit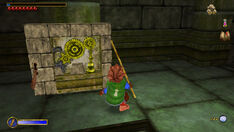 Talk to Bofur about the campfire
Get firewood for Bofur                                   
Fix the Golden machine
Find a large gold gear

Find a small gold gear
Fix copper machine                          
Find large copper gear
Find small copper gear

Find medium copper gear
Fix the metallic gear
Find the large metallic gear
Find the small metallic gear       
Find medium metallic gear
Level Information
Edit
<tabber>
Characters
Edit
| | |
| --- | --- |
| Name | Description |
| Gandalf | Gandalf is the first character you meet in the game. He sends Bilbo to meet the other dwarves at the Green Dragon. |
| Thorin Oakenshield | Thorin is inside with the other dwarves. |
| Balin | Balin is the small cave with the other dwarves. |
| Bifur | Bifur waits inside the cave with the other dwarves. |
| Bofur | Bofur waits in the cave with the other dwarves. |
| Oin | Oin waits with the other dwarves at the back of the cave. |
| Gloin | Gloin waits at the back of the cave with the other dwarves. |
| Bombur | Bombur is at the start of Overhill next to Fili. |
| Kili | Kili is at the start of Overhill. |
|-|
| | |
| --- | --- |
| Name | Description  |
| Firewood | Bilbo collects this at the beginning of the level, causing him to fall into the next area. |
| Large Gold Gear | a large golden gear that is circular. |
| Small Gold Gear | A smaller gear that goes to the golden machine. |
| Medium Gold Gear | medium sized golden gear used to fix the golden machine. |
| Gold Shank Arm | Gold shank arm used to fix the golden machine. |
| Gold Shank Head | Gold shank head used to fix the golden machine. |
| Medium Copper Gear | medium sized copper gear used to fix the machine. |
| Small Copper Gear | small copper gear used to fix the copper machine. |
| Copper Shank Arm | Copper shank arm is used to fix the copper machine. |
| Copper Shank Head | Copper shank head is used to fix the copper machine. |
| Large Metallic Gear | Metallic gear used to fix the metallic machine. |
| Small Metallic Gear | Small metallic gear used to fix the metallic machine. |
| Metallic Shank Head | Metallic shank head used to fix the matallic machine. |
| Medium Metallic Gear | Medium metallic gear used to fix the metallic machine. |
| Metallic Shank Arm | Metallic shank arm used to fix the metallic machine |
| Troll Key | The troll key ised used to open the door to leave the area and continue to the end of the level. |
|-|
Enemies=
| | |
| --- | --- |
| Name | Description |
| Wolves | Scare away the three packs of crows with the walking stick in order to receive a sack of wheat from Holbert. You must hit each flock of crows three times in order to shoo them away. |
| Werewolves | These werewolves are much stronger than regular brown wolves, they do substantial amounts of damage to Bilbo. It takes more hits to kill them, so it is best to throw rocks at them in order to weaken them so you can kill them more easily. |
| Miners | These miners appear in large numbers next to the troll key to open the door. They are  |
| Stone Giants | These miners appear in large numbers next to the troll key to open the door. They are  |
References
Edit