{{{image}}}
{{{caption}}}
Year ascended to the throne

Orophin was a Silvan elf from Lothlórien.
Biography
Edit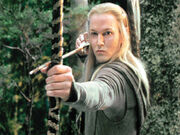 Orophin guarded the border of the country to the west, at the time of the War of the Ring. He stood guard along with other elves, including his brothers Haldir and Rumil.[1]
He, like his brother Rúmil, knew very little Westron (the Common Tongue) and so associated very little with the Fellowship. When Haldir saw Gollum rustling through the trees near where the hobbits stayed for the night, Orophin left his brothers to warn the Galadhrim.
Etymology
Edit
Orophin could mean "Small Tree", from oron and pîn, or "Mountain Peak", from orod and pind.[2]
Orophin was featured in the The Lord of the Rings Trading Card Game as a Decipher card.[3]
References
Edit
↑ The Lord of the Rings, The Fellowship of the Ring, Book Two, Chapter VI: "Lothlorien"
↑

Didier Willis, Elfling Message 24600
External link
Edit