Gerontius "The Old" Took
Talk

0
5,605pages on
this wiki
{{{image}}}
{{{caption}}}
Year ascended to the throne
Gerontius "The Old" Took
was a
Hobbit
of the
Shire
and the twenty-sixth
Thain of the Shire
. He was best known for being the third oldest Hobbit in
Middle-earth
's history, living to the ripe old age of 130 years. Only Bilbo and
Gollum
, whose lives were prolonged by the powers of the
Ring
, lived longer.
Biography
Edit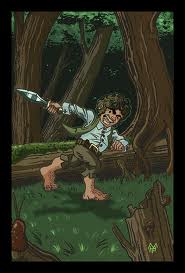 Gerontius was a friend of 
Gandalf
, and was a direct ancestor to the majority of the famous Hobbits. His great-uncle in the Took family was the renowned and large 
Bandobras "Bullroarer" Took
. In
The Hobbit
, it is revealed that Gandalf gave him "a pair of magic diamond studs that fastened themselves and never came undone till ordered."
Gerontius married Adamanta Chubb and had twelve children; eight sons: Isengrim III, Isumbras IV, Hildigrim Took (great-grandfather to Peregrin Took and Meriadoc Brandybuck), Isembold, Hildifons, Isembard, Hildibrand (great-grandfather to Fredegar Bolger), and Isengar; and four daughters: Hildigard, Belladonna (mother to Bilbo Baggins), Donnamira, and Mirabella (grandmother to Frodo Baggins). He was Thain for 72 years at the time of his death in TA 2920 (SR 1320).[2]
Portrayal in adaptations
Edit
Appearances
Edit
{{{title}}}
Preceded by
{{{before}}}
Gerontius "The Old" Took
Succeeded by
{{{after}}}
{{{years}}}
References
Edit
↑ The Lord of the Rings, Appendix B: The Tale of Years (Chronology of the Westlands), "The Third Age"
↑ The Lord of the Rings, Appendix C: Family Trees, Took of Great Smials
External link
Edit