!
Non-Canon Alert!
The subject of this article originates from non-canonical sources. To find out about what is considered "canon" see LOTR:Canon.
!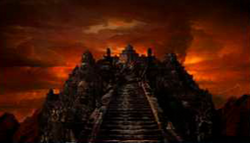 Nurngost was a guard-fortress of Mordor that lay on the coast of the Sea of Nurnen.
This fortress had a great harbor at its south-east end, for the transporting of goods from Caran (to Nurngost's east) and Thaurband (to its west) into the many roads going into the Plateau of Gorgoroth. Because most of the land of Mordor was desolate, places such as these would have been vital for the maintaining of Sauron's vast armies.
This location does not originate from any map that J.R.R. Tolkien himself created.
External reference
Edit
Ad blocker interference detected!
Wikia is a free-to-use site that makes money from advertising. We have a modified experience for viewers using ad blockers

Wikia is not accessible if you've made further modifications. Remove the custom ad blocker rule(s) and the page will load as expected.