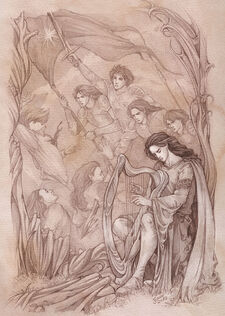 Noldolantë was a poem written by Maglor probably sometime in the early First Age.
The Noldolantë was described The 'Revolt of the Ñoldor' or the 'Fall of the Ñoldor' with much reference to the Kinslaying at Alqualondë possibly in sad and despairing lamentations.[1]
References
Edit
↑ The Silmarillion, Quenta Silmarillion, Chapter IX: "Of the Flight of the Noldor"