!
Non-Canon Alert!
The subject of this article originates from non-canonical sources. To find out about what is considered "canon" see LOTR:Canon.
!
Nargroth (Sindarin for "Fire Halls") was a watch-fortress in Mordor on the southwestern part of the Mithram Spur that watched the gap leading into Gorgoroth as well as roads around it going to the Dark Tower and northward up the Spur.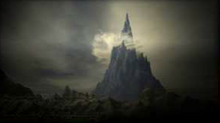 It is not mentioned in any writings of Tolkien, and is only shown only on a map of Mordor created for cinematic Middle-earth lore, appearing in The Lord of the Rings: Weapons and Warfare and The Return of the King Visual Companion.
Ad blocker interference detected!
Wikia is a free-to-use site that makes money from advertising. We have a modified experience for viewers using ad blockers

Wikia is not accessible if you've made further modifications. Remove the custom ad blocker rule(s) and the page will load as expected.