Nan Elmoth
Talk

0
5,065pages on
this wiki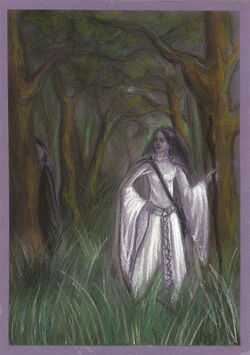 Nan Elmoth was a forest in Beleriand east of Doriath and south of the River Celon.
The trees grew here to be the tallest and darkest in the Beleriand, blocking the sun entirely from the forest floor.
Melian enchanted the Teleri elf Elwë (Thingol) in Nan Elmoth, before they founded the realm of Doriath. Eöl the Dark Elf dwelt there for apparently hundreds of years until FA 400 and was where he first meant Aredhel Ar-Feiniel, who would later become his wife. Nan Elmoth was held to be part of Doriath, and Eöl paid Thingol with the black sword Anglachel as a fee for living there.
After the death of Eöl, no known Man or Elf lived in there ever again and after the end of First Age it went down with the rest of the Beleriand.
Etymology
Edit
Nan Elmoth is a Sindarin word meaning 'Stardust valley'.
External link
Edit