Mouths of Sirion
Talk

0
5,065pages on
this wiki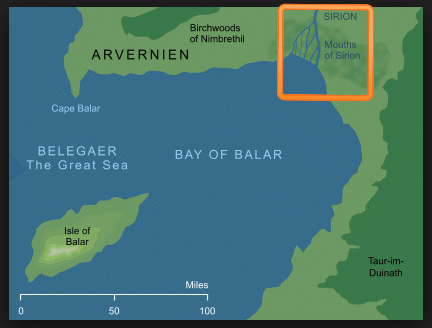 Mouths of Sirion
was the delta of the
Sirion
where it flowed into the
Bay of Balar
. It was located in the
West Beleriand
in the land of
Arvernien
.
The area around it was a Marshland.
The Havens of Sirion located around this land.[1]
It may have been inhabited at an earlier time by the Teleri but when they departed for the Havens of the Falas the area was inhabited, until Círdan established a refuge there. People, both elves and men began arriving here as the forces of Morgoth began to gain ground.[2]
References
Edit
↑ The Atlas of Middle-earth pg. 12
External link
Edit