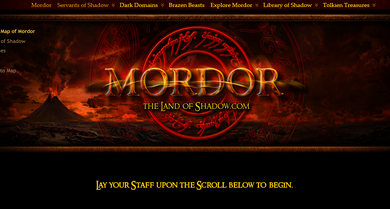 Mordor ~ The Land of Shadow is a fan-made website (created in 1998) centered on and pertaining solely to Middle-earth-fans' interest in all things concerning the realm of Mordor, how Mordor can be imagined artistically, and to Weta Workshop's portrayal of the Orc.

For more than a decade TheLandOfShadow.com has had a purposefully dark, artistic, and interactive layout, because of the motivations its founder had.
"One day in 1998, I came across this painting by John Howe (see image to the right) and it struck me how perfect his rendition of Barad-dur was... it seemed to fit exactly with what I had always imagined in my mind. Then I thought how much I would like to see this image in motion, with the great Eye of Sauron searching for the ONE Ring across the Plain of Gorgoroth. And so began my own journey into Mordor. .....With the brave new world of the Internet at my fingertips, I decided to bring my passion to the web. I uploaded my one lowly page of animation and called it Mordor! I found 25 hobbits and created a link to my site. There were very few visitors in the beginning and I wondered if there were others like myself, that wanted to know more about the Orcs, the Nazgul and the Dark Lord of Mordor. So I began building this land of Shadow one page at a time... with many fits and starts it began to take shape."
—Ring Lord, the founder, on his inspiration
This site is made up of articles on every villainous entity that J.R.R. Tolkien invented and on every location of Arda that has any connection to the presence of evil or of shadow, news concerning the endeavors of Weta Workshop in the world of cinema, and portals leading the viewer to Weta's numerous models and designs of Orcs.
Because of the site's intrinsic theme of interpretativeness, there are features and articles that do not entirely adhere to the Tolkien Canon, such as a full Black speech vocabulary and map of Mordor containing many added locations, along with their descriptions, such as Daemon Angren, Caran, Nurngost, and the Hidden Vale.
External link
Edit