Ad blocker interference detected!
Wikia is a free-to-use site that makes money from advertising. We have a modified experience for viewers using ad blockers

Wikia is not accessible if you've made further modifications. Remove the custom ad blocker rule(s) and the page will load as expected.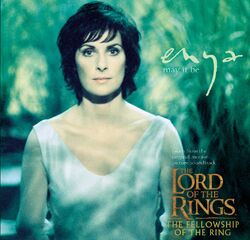 May It Be
is the song sung by
Enya
for the credits of
Peter Jackson
's
film version of The Fellowship of the Ring
. The music video for the song featured clips from
The Fellowship of the Ring
. Some of the lyrics in the song are in Quenya.
May it be an evening star
Shines down upon you
May it be when darkness falls
Your heart will be true
You walk a lonely road
Oh! How far you are from home

Mornie utúlië (darkness has come)
Believe and you will find your way
Mornie alantië (darkness has fallen)
A promise lives within you now

May it be the shadows call
Will fly away
May it be you journey on
To light the day
When the night is overcome
You may rise to find the sun

Mornie utúlië (darkness has come)
Believe and you will find your way
Mornie alantië (darkness has fallen)
A promise lives within you now

A promise lives within you now

Quenya translation of the song
Edit
(By Quetanto/Pedan)
Nai el andúnëo
Síla lyello
Nai as lanta mornië
Enda voronda
Eressëa tië
Nalyë haira marallo
Mornië utúlië
Á sávë ar hiruvalyë tiëlya
Mornië alantië
Vanda sí coiviës lyenen
Nai i yello lëollo
Autava lië
Nai lendályë pona
Auré a calima
Ya turunelyë lómë
Ecë lyë ortë hirë úr
Mornië utúlië
Á savë ar hiruvalyë tielya
Mornië alantië
Vanda sí coivies lyenen