Mauro Mazzara is an Italian painter and illustrator whose drawings of numerous Middle-earth creatures can be seen in Beasts of Tolkien: A Colouring Book and A Bestiary of Tolkien, both of which he co-authored in 2016, and Tolkien's World: A Fantasy Coloring Book (2015), to which he was the largest contributor. Mazzara was born in Milan, and has drawn pictures since before he learned to walk.[1]
His fantasy illustrations of evil creatures are of a notably ghoulish horror-style.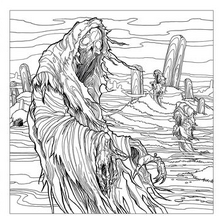 For images of Mazzara's art on this Wiki, see Category:Illustrations by Mauro Mazzara.
Reference
Edit
Ad blocker interference detected!
Wikia is a free-to-use site that makes money from advertising. We have a modified experience for viewers using ad blockers

Wikia is not accessible if you've made further modifications. Remove the custom ad blocker rule(s) and the page will load as expected.