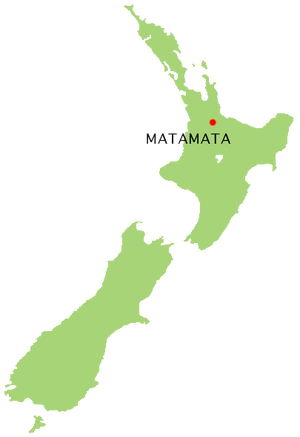 Matamata is the location in New Zealand which represented Hobbiton in Peter Jackson's Lord of the Rings movies.
It is a rural Waikato town with a total population of around 12,000 (6,000 in rural areas, 6,000 in the township). It is located near the base of the Kaimai Ranges and is a thriving farming area known forThoroughbread horse breeding and training pursuits. It is part of the Matamata Piako district Matamata-Piako District Council, taking in the surrounding rural areas as well as Morrinsville and Te Aroha.
State Highway 27 and the Kinleith Branch railway run through the town.
A nearby farm was the location for the Hobbiton set. The New Zealand government decided to leave the Bag End built on location as tourist attractions, since they were designed to blend seamlessly into the environment. They have no furniture, but can be entered, and vistas of the farm can be viewed from inside them. A "Welcome to Hobbiton" sign has been placed on the main road.
Ad blocker interference detected!
Wikia is a free-to-use site that makes money from advertising. We have a modified experience for viewers using ad blockers

Wikia is not accessible if you've made further modifications. Remove the custom ad blocker rule(s) and the page will load as expected.