Master of Laketown
Talk

1
4,994pages on
this wiki
{{{image}}}
{{{caption}}}
Titles
Master of Laketown
Year ascended to the throne
The Master of Lake-Town or The Master was the original leader of Laketown, that is, Esgaroth, when Bilbo Baggins and his companions arrived. He is described as being greedy, but not undeserving of his position in terms of intelligence and charisma. Contrary to popular opinion, he was not a rival or enemy of Bard the Bowman, but rather a close companion of Bard's, and he even allowed Bard to remain in Laketown while the Lakemen recovered from their ordeal with Smaug. All he cares about is greed and money.
In The Hobbit he is not given an actual name.
Biography
Edit
The Master of Laketown ruled from 2920 to 2941 of the Third Age and he would have been approximately thirty years old when he began leadership. This would make him fifty years old at the time of the Battle of the Five Armies and The Quest of Erebor, as these events both occurred in the year 2941. The Master's rule in Laketown was rather amicable, and therefore under his dominion the Men of the Long Lake traded peaceably with the Elves of Mirkwood, creating a steady trade that was kept until 2941, when Thorin and his friends came to wrest dominion of the Lonely Mountain (Erebor) and its riches from Smaug, who had arrived 120 years before the Master's rule, in the year TA 2770.
When the Dwarves arrived, the Master of Laketown greeted them generously, but only to keep public spirits up.[1] After the destruction of Laketown and the slaying of the dragon by Bard, he was given money for the rebuilding of Laketown by Dain II Ironfoot, the ruler of the Lonely Mountain.[2] He flees into the wild with the gold, and is eventually abandoned in the waste and perishes there of starvation.[3] He is therefore described as weak, because he is easily overcome by the lust of the treasure Smaug held, and by the dragon-spell.
Portrayal in adaptations
Edit
The Hobbit film trilogy
Edit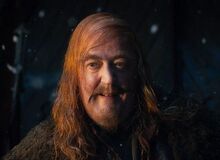 In Peter Jackson's adaptation of The Hobbit, the Master is played by the English actor Stephen Fry.
Appearances
Edit
Voice Dubbing actors
Edit
| Foreign Language | Voice dubbing artist |
| --- | --- |
| Portuguese (Brazil) (Television/DVD) | Alfredo Martins |
| Spanish (Latin America) | Alejandro Mayén |
| Spanish (Spain) | Jordi Royo |
| Italian (Italy) | Massimo Lopez |
| German | Waldemar Kobus |
| Polish | Jan Prochyra |
| Czech | Jiří Schwarz |
In the play adaptation of The Hobbit by Edward Mast, The Master of Laketown is named Maxwell, though this is not considered canon.
References
Edit
↑ The Hobbit, Chapter X: "A Warm Welcome"
↑ The Hobbit, Chapter XIV: "Fire and Water"
↑ The Hobbit, Chapter XIX: "The Last Stage"
External link
Edit