Home
Talk

251
5,824pages on
this wiki

Middle-earth is where J.R.R. Tolkien set his fictional post-1937 stories. The name is a literal translation of the Old English term "Middangeard".

The history of Middle-earth covers a number of Ages:


Middle-earth is the name used for the inhabitable parts of Arda (ancient Earth) where the (canonical) stories in his legendarium take place. "Middle-earth" is a literal translation of the Old English term middangeard, referring to this world, the habitable lands of men. Tolkien translated "Middle Earth" as Endor (or sometimes Endóre) and Ennor in the Elvish languages Quenya and Sindarin, respectively. Mythologically, the north of Endor became the Eurasian land-mass after the primitive Earth was transformed into the round world of today.

Middle-earth's setting is in a fictional period in Earth's own past. Tolkien insisted that Middle-earth is Earth in several of his letters, in one of them (no. 211) estimating the end of the Third Age to about 6,000 years before his own time. The action of the books is largely confined to the north-west of the Endor continent, implicitly corresponding to modern-day Europe. The history of Middle-earth is divided into several Ages: The Hobbit and the main text of The Lord of the Rings deal exclusively with events towards the end of the Third Age and conclude at the dawn of the Fourth Age, while The Silmarillion deals mainly with the First Age. The world (Arda) was originally flat but was made round near the end of the Second Age by Eru Ilúvatar, the Creator.

The One Wiki to Rule them All includes videos; Youtube videos and Wikia Videos can be added to any page.

The Hobbit: The Battle of the Five Armies Clip: "I'm not alone"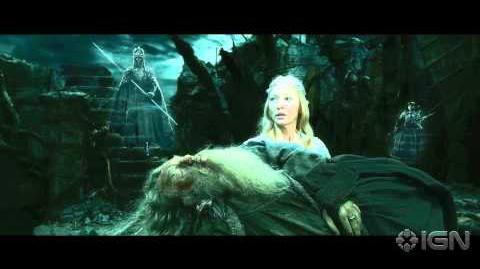 What games have you played before that is related to Middle-Earth?

 

What is your favorite ending credits song?

 
See More
| | |
| --- | --- |
| | The Black Gate was the common name for the Morannon, the gates which guarded Mordor. Frodo and Sam had a chance to go through the Black Gate when they arrived at Morder. |


Lord of the Rings
Loading RSS data...
The Hobbit
Loading RSS data...
Refresh
·
Read more

Even with 5,824 articles, and 6,883 files, we still need YOUR help expanding and adding articles to the wiki!
---
---
If you're new to wikia, please use the above links to get started.
If you already have editing experience, and you have an article relating to Lord of the Rings to contribute, use the box below to create it:
Thank you!

The One Wiki to Rule Them All, previously the Lord of the Rings Wiki, is Not in any way, shape, or form affiliated with Saul Zaentz, Middle-earth Enterprises, the Tolkien Estate, New Line Cinema, or Wingnut Films.


Copyrights and trademarks for the books, films, and other promotional materials are held by their respective owners and their use is allowed under the fair use clause of the Copyright Law.