Even with 6,142 articles, and 7,637 files, we still need YOUR help expanding and adding articles to the wiki!
---
---
If you're new to Wikia, please use the above links to get started.
If you already have editing experience, and you have an article relating to Lord of the Rings to contribute, use the box below to create it:
Thank you!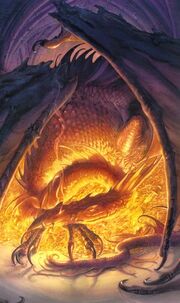 Dragons were ancient, intelligent, powerful creatures, as feared by others as they were admired in Middle-earth. Their exact origin is debated, though it was clearly stated that they were created by Morgoth in some sense.
Dragons lived throughout the First, Second, and Third ages of Middle-earth and may have lived longer. They were originally bred by Morgoth during the first age to serve as gigantic shock troopers and mobile artillery. The first dragon ever seen in Middle-earth was Glaurung, the father of dragons, who Morgoth used to great effect during the fourth and fifth battles in the War of the Jewels. Like most of the creatures made or twisted by Morgoth, they were capable of reproducing naturally. Dragons were sometimes referred to as serpents, great Worms, or simply Drakes, with the first two specifying the Wingless Dragons.
Read More...

What games have you played before that is related to Middle-Earth?

 

What is your favorite ending credits song?

 
| | |
| --- | --- |
| | The Black Gate was the common name for the Morannon, the gates which guarded Mordor. Frodo and Sam had a chance to go through the Black Gate when they arrived at Morder. |
Lord of the Rings
Loading RSS data...
The Hobbit
Loading RSS data...
Refresh
·
Read more

The One Wiki to Rule Them All, previously the Lord of the Rings Wiki, is Not in any way, shape, or form affiliated with Saul Zaentz, Middle-earth Enterprises, the Tolkien Estate, New Line Cinema, or Wingnut Films.


Copyrights and trademarks for the books, films, and other promotional materials are held by their respective owners and their use is allowed under the fair use clause of the Copyright Law.
Ad blocker interference detected!
Wikia is a free-to-use site that makes money from advertising. We have a modified experience for viewers using ad blockers

Wikia is not accessible if you've made further modifications. Remove the custom ad blocker rule(s) and the page will load as expected.