Mithril was a precious silvery metal, stronger than steel but much lighter in weight, which was mined by the Dwarves in the mines of Khazad-dûm. The name Mithril came from two words in Sindarin—mith, meaning "grey", and ril meaning "glitter". Mithril was also called "true-silver" by Men, while the Dwarves had their own, secret name for it.

The wizard Gandalf explained mithril to the Company, passing through Khazad-dûm, the Mines of Moria:
"The wealth of Moria was not in gold and jewels, the toys of the Dwarves; nor in iron, their servant... Its worth was ten times that of gold, and now it is beyond price; for little is left above ground, and even the Orcs dare not delve here for it.
"Mithril! All folk desired it. It could be beaten like copper, and polished like glass; and the Dwarves could make of it a metal, light and yet harder than tempered steel. Its beauty was like to that of common silver, but the beauty of mithril did not tarnish or grow dim." (The Fellowship of the Ring, "A Journey in the Dark").

The One Wiki to Rule them All includes videos; Youtube videos and Wikia Videos can be added to any page.

The Hobbit: The Battle of the Five Armies Clip: "I'm not alone"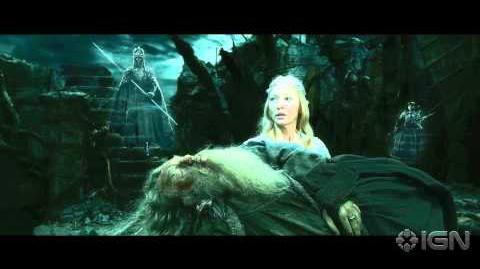 What games have you played before that is related to Middle-Earth?

 

What is your favorite ending credits song?

 
See More
Gandalf found Glamdring in the troll's cave. He continued to use until the end of the war of the ring.

Glamdring was a sword, forged for the Elf Turgon in the First Age. For several thousand years it went missing, until Gandalf (and company) found it (along with Sting and Orcrist) in the trolls' cave in The Hobbit and claimed it for himself. He continued to use Glamdring through the events of The Lord of the Rings.


Lord of the Rings
Loading RSS data...
The Hobbit
Loading RSS data...
Refresh
·
Read more

Even with 5,940 articles, and 6,943 files, we still need YOUR help expanding and adding articles to the wiki!
---
---
If you're new to wikia, please use the above links to get started.
If you already have editing experience, and you have an article relating to Lord of the Rings to contribute, use the box below to create it:
Thank you!

The One Wiki to Rule Them All, previously the Lord of the Rings Wiki, is Not in any way, shape, or form affiliated with Saul Zaentz, Middle-earth Enterprises, the Tolkien Estate, New Line Cinema, or Wingnut Films.


Copyrights and trademarks for the books, films, and other promotional materials are held by their respective owners and their use is allowed under the fair use clause of the Copyright Law.