Welcome to the The One Wiki to Rule Them All sandbox!
This page exists so that you can practice editing or formatting (see Help:Editing) without changing any serious content. Feel free to try wiki editing out here first.
There is a tutorial on the Central (coordinating) Wikia that will step you through more of the things you can do. Wiki allow for rather complicated formatting. It can look overwhelming when you begin, but don't let it worry you. Just start with the basics... enter some text, and learn the other pieces as you go. Your content contributions are welcome and important. The wiki is a collaborative effort and others can help with formatting and other improvements.
Best wishes!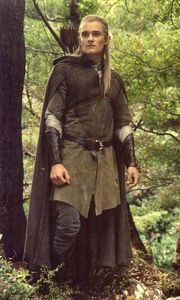 Legolas was a Sindarin Elf who became a part of the Fellowship of the Ring. With his keen eyesight, sensitive hearing, and excellent bowmanship, Legolas was a valuable resource to the other eight members of the Fellowship.
Legolas was Prince of Mirkwood, the son of King Thranduil, descendants from the royal line of Sindarin elves. Legolas was considered young by Elven standards, but was at least five centuries old. He first came to prominence at the council of Elrond, where he came as a messenger from his father to discuss the escape of Gollum. Elrond picked Legolas to become one of the members of the Fellowship that set out to destroy the One Ring.
Read More...
The One Wiki to Rule them All includes videos; Youtube videos and Wikia Videos can be added to any page.

The Hobbit: The Battle of the Five Armies Clip: "I'm not alone"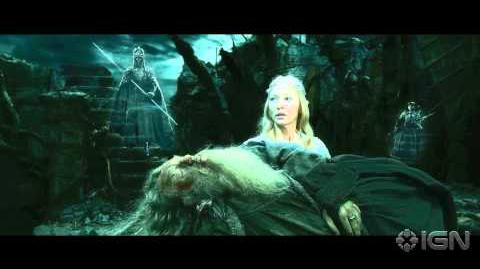 What games have you played before that is related to Middle-Earth?

 

What is your favorite ending credits song?

 
See More
| | |
| --- | --- |
| | Déagol was a cousin of Sméagol. On one of Sméagol's birthdays, they both went fishing, and Déagol was pulled underwater by a big fish. It was then that he discovered the Ring, half-buried in the river-bed. |
Lord of the Rings
Loading RSS data...
The Hobbit
Loading RSS data...
Refresh
·
Read more

Even with 6,191 articles, and 7,709 files, we still need YOUR help expanding and adding articles to the wiki!
---
---
If you're new to wikia, please use the above links to get started.
If you already have editing experience, and you have an article relating to Lord of the Rings to contribute, use the box below to create it:
Thank you!

The One Wiki to Rule Them All, previously the Lord of the Rings Wiki, is Not in any way, shape, or form affiliated with Saul Zaentz, Middle-earth Enterprises, the Tolkien Estate, New Line Cinema, or Wingnut Films.


Copyrights and trademarks for the books, films, and other promotional materials are held by their respective owners and their use is allowed under the fair use clause of the Copyright Law.

Ad blocker interference detected!
Wikia is a free-to-use site that makes money from advertising. We have a modified experience for viewers using ad blockers

Wikia is not accessible if you've made further modifications. Remove the custom ad blocker rule(s) and the page will load as expected.