Even with 6,174 articles, and 7,669 files, we still need YOUR help expanding and adding articles to the wiki!
---
---
If you're new to Wikia, please use the above links to get started.
If you already have editing experience, and you have an article relating to Lord of the Rings to contribute, use the box below to create it:
Thank you!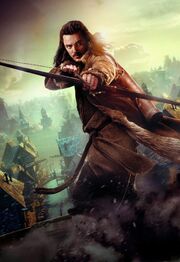 Bard or Bard the Bowman also known as Bard the First, was a man of Laketown, slayer of the Dragon, Smaug, and founder, first king of the New Kingdom of Dale. He was succeeded as King of Dale by his son, Bain.
In TA 2941, when Smaug emerged from the Lonely Mountain and attacked Laketown, Bard, as captain of a company of town archers, was encouraging the archers and urging the town Master to order them to fight to the last arrow. Bard fired his Black Arrow and struck the hollow by Smaug's left breast and the dragon fell from the sky, landing on Laketown and destroying it.
He rebuilt the ruined town and in TA 2944, he became King of Dale. Bard maintained good relations with the Dwarves of the Lonely Mountain and trade flowed freely up and down the River Running. People came to settle in Dale from miles around and the land that had been withered by Smaug became bountiful once more.
Read More...

What games have you played before that is related to Middle-Earth?

 

What is your favorite ending credits song?

 
| | |
| --- | --- |
| | Bywater is a village in the Shire, lying within the Westfarthing near Hobbiton, and along Bywater Road. Bywater was located on The Water, a small stream that ran through part of the Shire. |
Lord of the Rings
Loading RSS data...
The Hobbit
Loading RSS data...
Refresh
·
Read more

The One Wiki to Rule Them All, previously the Lord of the Rings Wiki, is Not in any way, shape, or form affiliated with Saul Zaentz, Middle-earth Enterprises, the Tolkien Estate, New Line Cinema, or Wingnut Films.


Copyrights and trademarks for the books, films, and other promotional materials are held by their respective owners and their use is allowed under the fair use clause of the Copyright Law.
Ad blocker interference detected!
Wikia is a free-to-use site that makes money from advertising. We have a modified experience for viewers using ad blockers

Wikia is not accessible if you've made further modifications. Remove the custom ad blocker rule(s) and the page will load as expected.