Even with 5,939 articles, and 6,942 files, we still need YOUR help expanding and adding articles to the wiki!
---
---
If you're new to Wikia, please use the above links to get started.
If you already have editing experience, and you have an article relating to Lord of the Rings to contribute, use the box below to create it:
Thank you!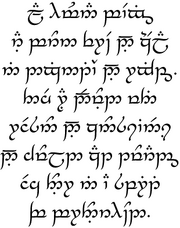 The Tengwar are an artificial script which was invented by J. R. R. Tolkien. In his works, the Tengwar script, supposedly invented by Fëanor, was used to write a number of the languages of Middle-earth, including Quenya and Sindarin. However, it can also be used to write other languages, such as English (most of Tolkien's tengwar samples we know of are actually in English). The word tengwar is Quenya for "letters". The corresponding singular is tengwa, "letter".
The sarati, described in Parma Eldalamberon 13, a script developed by J. R. R. Tolkien in the late 1910s, anticipates many features of the tengwar, especially the vowel representation by diacritics (which is found in many tengwar varieties), different tengwar shapes and a few correspondances between sound features and letter shape features (though inconsistent).
The tengwar were probably developed in the late 1920s or in the early 1930s. The Lonely Mountain Jar Inscription, the first published tengwar sample, dates to 1937 (The Hobbit, most editions). The full explanation of the tengwar was published in Appendix E of The Lord of the Rings in 1955.

What games have you played before that is related to Middle-Earth?

 

What is your favorite ending credits song?

 
| | |
| --- | --- |
| | Bywater is a village in the Shire, lying within the Westfarthing near Hobbiton, and along Bywater Road. Bywater was located on The Water, a small stream that ran through part of the Shire. |

Lord of the Rings
Loading RSS data...
The Hobbit
Loading RSS data...
Refresh
·
Read more



The One Wiki to Rule Them All, previously the Lord of the Rings Wiki, is Not in any way, shape, or form affiliated with Saul Zaentz, Middle-earth Enterprises, the Tolkien Estate, New Line Cinema, or Wingnut Films.


Copyrights and trademarks for the books, films, and other promotional materials are held by their respective owners and their use is allowed under the fair use clause of the Copyright Law.