Even with 6,409 articles and 8,323 files, we still need YOUR help expanding and adding articles to the wiki!
---
---
If you're new to Wikis at FANDOM or are unsure how you can help, use the above links to get started.
To contribute a new article relating to The Lord of the Rings or Middle-earth, use the box below:
Thank you!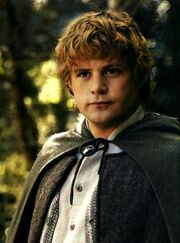 Samwise Gamgee (TA 2983 - FO 62; SR 1383 - 1482), was Frodo Baggins' servant who proved to be the most loyal of the Fellowship of the Ring.
A gardener by trade, Sam seemed to be a simple Hobbit of plain speech. However, his love for elves, his gift for poetry, and his belief that the world contains greater wonders than most hobbits are aware of (all nurtured by his tutor Bilbo Baggins) set him apart from the beginning. It was Sam who first introduced the theme of the elves sailing from Middle-earth, a subtle foreshadowing of Bilbo and Frodo's final journey across the sea. He lived with his father, Hamfast Gamgee, known as "The Gaffer", on Bagshot Row in the Shire, close to Bag End. Sam's mother was Bell Goodchild; he had five siblings: Hamson, Halfred, Daisy, May, and Marigold.
Read More...

What games have you played before that is related to Middle-Earth?

 

What is your favorite ending credits song?

 
| | |
| --- | --- |
| | Sting was an Elvish knife or dagger made in Gondolin in the First Age. Bilbo gives Sting to Frodo Baggins, just before the Fellowship of the Ring sets off from Rivendell. After the defeat of Sauron at the end of the Third Age, it passed to Samwise Gamgee. |

Lord of the Rings
Loading RSS data...
The Hobbit
Loading RSS data...
Refresh
·
Read more



The One Wiki to Rule Them All, previously the Lord of the Rings Wiki, is Not in any way, shape, or form affiliated with Saul Zaentz, Middle-earth Enterprises, the Tolkien Estate, New Line Cinema, or Wingnut Films.


Copyrights and trademarks for the books, films, and other promotional materials are held by their respective owners and their use is allowed under the fair use clause of the Copyright Law.