Even with 6,190 articles, and 7,698 files, we still need YOUR help expanding and adding articles to the wiki!
---
---
If you're new to Wikia, please use the above links to get started.
If you already have editing experience, and you have an article relating to Lord of the Rings to contribute, use the box below to create it:
Thank you!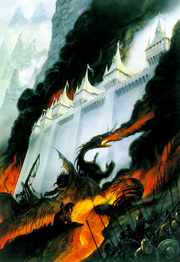 The Fall of Gondolin was the battle between the forces of Turgon and Melkor, after Maeglin betrayed the location of the Hidden Kingdom to the enemy.
In 551 FA, Turgon's nephew, Maeglin, divulged the secrets of Gondolin and its passes to Morgoth, who planned the assault for many years before finally unleashing his armies upon the unprepared Elves. Due to information passed by Maeglin, Morgoth's forces managed to surround the city without being detected, and it was besieged without any hope of victory or escape on the part of the Elves.
After the battle, most of the Gondolindrim (including Turgon and his captains) died, while some survived, such as Tuor, Idril, and their son Eärendil.
Read More...

What games have you played before that is related to Middle-Earth?

 

What is your favorite ending credits song?

 
Gandalf found Glamdring in the troll's cave. He continued to use until the end of the war of the ring.

Glamdring was a sword, forged for the Elf Turgon in the First Age. For several thousand years it went missing, until Gandalf (and company) found it (along with Sting and Orcrist) in the trolls' cave in The Hobbit and claimed it for himself. He continued to use Glamdring through the events of The Lord of the Rings.
Lord of the Rings
Loading RSS data...
The Hobbit
Loading RSS data...
Refresh
·
Read more

The One Wiki to Rule Them All, previously the Lord of the Rings Wiki, is Not in any way, shape, or form affiliated with Saul Zaentz, Middle-earth Enterprises, the Tolkien Estate, New Line Cinema, or Wingnut Films.


Copyrights and trademarks for the books, films, and other promotional materials are held by their respective owners and their use is allowed under the fair use clause of the Copyright Law.
Ad blocker interference detected!
Wikia is a free-to-use site that makes money from advertising. We have a modified experience for viewers using ad blockers

Wikia is not accessible if you've made further modifications. Remove the custom ad blocker rule(s) and the page will load as expected.