Home
Talk

247
5,593pages on
this wiki


Even with 5,593 articles, and 6,744 files, we still need YOUR help expanding and adding articles to the wiki!
---
---
If you're new to Wikia, please use the above links to get started.
If you already have editing experience, and you have an article relating to Lord of the Rings to contribute, use the box below to create it:
Thank you!


Elves were the first and oldest of the Children of Ilúvatar and are considered to be the fairest and wisest race given sapience by Eru Ilúvatar.
Summary
In Tolkien mythology, the Elves were the first children of Eru, the One, whom they called Ilúvatar. The Elves are resistant to the effects of alcohol and are not subject to disease or physical aging, though they could be killed by violence or by wasting away and losing the will to live. They were otherwise essentially immortal.
Some, known afterward as the Eldar (People of the Stars), were brought by the Valar from Middle-earth to Valinor, where they were taught by the Ainur. But after the Silmarils were stolen by Melkor, some of the Elves returned to Middle-earth, where they remained until the end of the Third Age.

The One Wiki to Rule them All includes videos; Youtube videos and Wikia Videos can be added to any page.

The Hobbit: The Battle of the Five Armies Clip: "I'm not alone"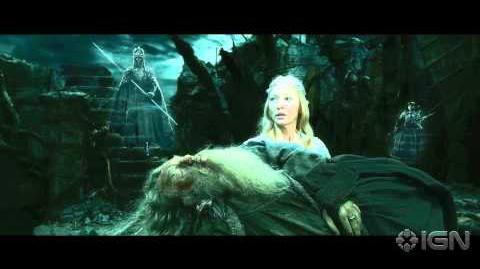 How will you rate The Hobbit: The Battle of the Five Armies?

 

What is your favorite scene from The Hobbit: An Unexpected Journey?

 

What is your favorite scene from The Hobbit: The Desolation of Smaug?

 
See More
| | |
| --- | --- |
| | Smaug was a greedy, reddish-gold dragon of Middle-earth, who laid waste to Dale and captured the Lonely Mountain (Erebor) with all its treasure, which he gathered in a central hall and slept upon. Despite having accumulated such vast wealth, Smaug was intimately familiar with every last item within his hoard, and instantly noticed the theft of a relatively inconsequential item by Bilbo Baggins. |

Lord of the Rings
Loading RSS data...
The Hobbit
Loading RSS data...
Refresh
·
Read more

The One Wiki to Rule Them All, previously the Lord of the Rings Wiki, is Not in any way, shape, or form affiliated with Saul Zaentz, Middle-earth Enterprises, the Tolkien Estate, New Line Cinema, or Wingnut Films.


Copyrights and trademarks for the books, films, and other promotional materials are held by their respective owners and their use is allowed under the fair use clause of the Copyright Law.