Home
Talk

251
5,812pages on
this wiki


Even with 5,812 articles, and 6,868 files, we still need YOUR help expanding and adding articles to the wiki!
---
---
If you're new to Wikia, please use the above links to get started.
If you already have editing experience, and you have an article relating to Lord of the Rings to contribute, use the box below to create it:
Thank you!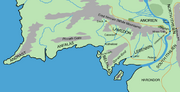 Gondor was a kingdom of Middle-earth that lay on the southern border of Rohan and the western border of Mordor.
Like Arnor to the north, Gondor is a human kingdom founded by Isildur and Anárion, the sons of Elendil, after the Downfall of Númenor. It was located to the south of Rohan and to the west of Mordor, on the Bay of Belfalas. Its name means "Land of Stone", from Sindarin gond (stone) + (n)dor (land), most likely given to it because of the Ered Nimrais and other mountain chains in the land (hypothetical Quenya name Ondonórë).
Before the Downfall of Númenor, Gondor was home to many Númenórean colonists, who either mixed blood with the indigenous Middle Men if they were friendly, or dispersed them into Ras Morthil, Dunland, and Drúadan Forest. Gondor, at a latitude comparable to Venice, was a more fertile region than Arnor to the north, and therefore it already had a larger population before the ships of Elendil's sons arrived, including a well-established city, Pelargir.

What games have you played before that is related to Middle-Earth?

 

What is your favorite ending credits song?

 
| | |
| --- | --- |
| | The Black Gate was the common name for the Morannon, the gates which guarded Mordor. Frodo and Sam had a chance to go through the Black Gate when they arrived at Morder. |

Lord of the Rings
Loading RSS data...
The Hobbit
Loading RSS data...
Refresh
·
Read more



The One Wiki to Rule Them All, previously the Lord of the Rings Wiki, is Not in any way, shape, or form affiliated with Saul Zaentz, Middle-earth Enterprises, the Tolkien Estate, New Line Cinema, or Wingnut Films.


Copyrights and trademarks for the books, films, and other promotional materials are held by their respective owners and their use is allowed under the fair use clause of the Copyright Law.