Even with 6,176 articles, and 7,675 files, we still need YOUR help expanding and adding articles to the wiki!
---
---
If you're new to Wikia, please use the above links to get started.
If you already have editing experience, and you have an article relating to Lord of the Rings to contribute, use the box below to create it:
Thank you!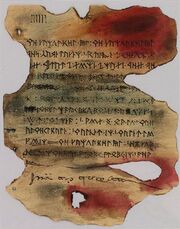 The Book of Mazarbul was begun in TA 2989, upon Balin's return to Moria. The book recounted the expedition's experiences within Moria, including a battle with the Orcs that inhabited the old halls of Khazad-dûm, in which Balin's Dwarves were victorious. They settled in the Twenty-first Hall, above the East-gate, and Balin himself ruled his new domain from the old Chamber of Records, also called the Chamber of Mazarbul. Over the next five years, the Dwarves seem to have settled quite successfully into their new home, exploring under the Mountains as far as the West-gate of Moria, recovering Durin's Axe and apparently other priceless items made of Mithril.
Ori, who was with him in Moria, recorded in the last pages of the Book how an army of Orcs came unexpectedly out of the east, slaying Balin outside the East-gate. The Dwarves defended themselves, but they were beleaguered from the east by the Orcs and from the west by the mysterious Watcher in the Water. Their last stand was in the Chamber of Mazarbul, where the Orcs eventually overcame and destroyed them.
Read More...

What games have you played before that is related to Middle-Earth?

 

What is your favorite ending credits song?

 
| | |
| --- | --- |
| | Bywater is a village in the Shire, lying within the Westfarthing near Hobbiton, and along Bywater Road. Bywater was located on The Water, a small stream that ran through part of the Shire. |
Lord of the Rings
Loading RSS data...
The Hobbit
Loading RSS data...
Refresh
·
Read more

The One Wiki to Rule Them All, previously the Lord of the Rings Wiki, is Not in any way, shape, or form affiliated with Saul Zaentz, Middle-earth Enterprises, the Tolkien Estate, New Line Cinema, or Wingnut Films.


Copyrights and trademarks for the books, films, and other promotional materials are held by their respective owners and their use is allowed under the fair use clause of the Copyright Law.
Ad blocker interference detected!
Wikia is a free-to-use site that makes money from advertising. We have a modified experience for viewers using ad blockers

Wikia is not accessible if you've made further modifications. Remove the custom ad blocker rule(s) and the page will load as expected.