Even with 5,964 articles, and 6,974 files, we still need YOUR help expanding and adding articles to the wiki!
---
---
If you're new to Wikia, please use the above links to get started.
If you already have editing experience, and you have an article relating to Lord of the Rings to contribute, use the box below to create it:
Thank you!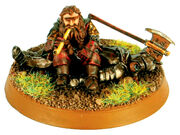 The Lord of the Rings Strategy Battle Game (LoTR SBG), often referred to by players as Lord of the Rings, is a tabletop miniature wargame produced by Games Workshop, based on The Lord of the Rings films and novels. It was initially released in 2001 to tie in with the movie The Fellowship of the Ring. New box sets with updated rules were also released for The Two Towers and The Return of the King movies. Later Games Workshop also began to add content that was featured in the original novels but not in the film adaptations (e.g. Tom Bombadil, Radagast and Glorfindel) called the 'Shadow and Flame' collection. This was generally supported, but there were mixed reactions when Games Workshop invented characters and wrote histories for lands Tolkien wrote little about, such as Harad.
Games Workshop recently released a complete new edition of the rules and rulebooks in September 2005, entitled "One Rulebook to Rule them All". However, it was subjected to scrutiny because it lacked the rules for the Army of the Dead and Golfimbul...

What games have you played before that is related to Middle-Earth?

 

What is your favorite ending credits song?

 
| | |
| --- | --- |
| | Déagol was a cousin of Sméagol. On one of Sméagol's birthdays, they both went fishing, and Déagol was pulled underwater by a big fish. It was then that he discovered the Ring, half-buried in the river-bed. |

Lord of the Rings
Loading RSS data...
The Hobbit
Loading RSS data...
Refresh
·
Read more


Create blog post
Refresh
What do you think Tom Bombadil is? I personally believe that he is Orome for is it not said, "That …

Read more >

I just have a question: What would you have done if you were Feanor, your father had just died, you…

Read more >

You may or may not have known about this, but Sir Christopher Lee, the actor who played Saruman and…

Read more >
See more >

The One Wiki to Rule Them All, previously the Lord of the Rings Wiki, is Not in any way, shape, or form affiliated with Saul Zaentz, Middle-earth Enterprises, the Tolkien Estate, New Line Cinema, or Wingnut Films.


Copyrights and trademarks for the books, films, and other promotional materials are held by their respective owners and their use is allowed under the fair use clause of the Copyright Law.