Even with 6,123 articles, and 7,578 files, we still need YOUR help expanding and adding articles to the wiki!
---
---
If you're new to Wikia, please use the above links to get started.
If you already have editing experience, and you have an article relating to Lord of the Rings to contribute, use the box below to create it:
Thank you!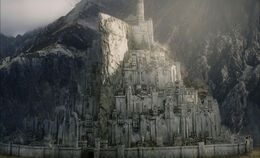 Minas Tirith [Sindarin; minas (tower) + tirith (watch/guard)] (IPA: tiriθ) was the capital of Gondor in the Third Age and the Fourth Age of Middle-earth. Originally known as Minas Anor, the "Tower of the Setting Sun", it replaced the city Osgiliath as the new capital and stockade of Gondor.
When the Enemy began to take shape again, Minas Anor was renamed Minas Tirith, the "Tower of Guard." The city was also called The White City, as the courtyard in the front of the city's Citadel contained the White Tree, and was also known as the City of Kings because of its connection with the kings and stewards of Gondor (who ruled the kingdom of Gondor from the Citadel of the city). Many important events took place in and in front of the city, such as the Battle of the Pelennor Fields, the healing of Meriadoc Brandybuck by Aragorn after that battle, and the coronation of Aragorn II Elessar outside the city gates.
Read More...

What games have you played before that is related to Middle-Earth?

 

What is your favorite ending credits song?

 
Athelas is a healing herb, also known as Kingsfoil or Asëa Aranion.

It was first brought to Middle-earth by Númenoreans, but by the end of the Third Age the knowledge of its healing properties was lost among all but the Rangers of the North.

Lord of the Rings
Loading RSS data...
The Hobbit
Loading RSS data...
Refresh
·
Read more


The One Wiki to Rule Them All, previously the Lord of the Rings Wiki, is Not in any way, shape, or form affiliated with Saul Zaentz, Middle-earth Enterprises, the Tolkien Estate, New Line Cinema, or Wingnut Films.


Copyrights and trademarks for the books, films, and other promotional materials are held by their respective owners and their use is allowed under the fair use clause of the Copyright Law.
Ad blocker interference detected!
Wikia is a free-to-use site that makes money from advertising. We have a modified experience for viewers using ad blockers

Wikia is not accessible if you've made further modifications. Remove the custom ad blocker rule(s) and the page will load as expected.