List of the Lord of the Rings film trilogy characters and cast members
Talk

0
Share
Ad blocker interference detected!
Wikia is a free-to-use site that makes money from advertising. We have a modified experience for viewers using ad blockers

Wikia is not accessible if you've made further modifications. Remove the custom ad blocker rule(s) and the page will load as expected.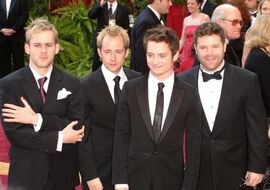 The List of the Lord of the Rings film trilogy characters and cast members is a list of characters and cast members who appeared and voiced or portrayed characters appearing in the extended version of Peter Jackson's the Lord of the Rings. Jackson hoped such activities would allow the cast to bond so chemistry would be evident on screen as well as getting them used to life in Wellington . They were also trained to pronounce Tolkien's verses properly. After the shoot, the nine cast members playing the Fellowship got a tattoo, the Elvish symbol for the number nine, with the exception of John Rhys-Davies, whose stunt double got the tattoo instead. The film is noted for having an ensembl
List
A "white" cell with the name of the actor or actress indicates the character did appear in the film adaptation.
A "white" cell without a name indicates the character did appear in the film/s but by a CGI animated creature, an animal or portrayed by an unidentified actor or actress.
A "grey" cell indicates the character was not in the film adaptation.
A "(Snyltar)" indicates the actor or actress lent only his or her voice for his or her film character.