Lindir
Talk

3
4,593pages on
this wiki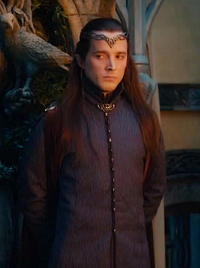 Lindir
was an
Elf
of
Rivendell
(Imladris) in the
Third Age
of unknown kindred.
Biography
Edit
Lindir was a listener at one of Bilbo's poetry readings at Elrond's house. After Bilbo finished reciting the Song of Eärendil, he implied that he could not tell which parts Aragorn wrote and what parts were written by Bilbo. He may have been a minstrel.[1]
In all three Hobbit installments he is played by Bret McKenzie from Flight of the Conchords, and referred to as Figwit in Peter Jackson's The Lord of the Rings film trilogy, appearing in The Fellowship of the Ring and The Return of the King.
Etymology
Edit
The name Lindir may mean "Singer".
References
Edit
↑ The Lord of the Rings: The Fellowship of the Ring, page 237
External links
Edit
Lindir at Encyclopedia of Arda