This article is a stub
Boromir says this article is "So small a thing. Such a little thing!"    Please expand it if you can.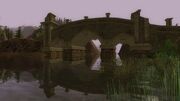 The Last Bridge was the bridge that crossed the river Hoarwell along the Great East Road. The bridge and the river marked the western boundary of the Trollshaws.[citation needed]
Translations around the world
Edit
| Foreign Language | Translated name |
| --- | --- |
| Hungarian | Utolsó Híd |
| Russian | Последний мост |