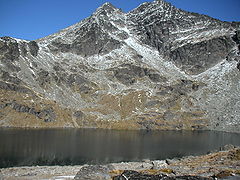 Lake Alta is the location in New Zealand that represented Dimrill Dale in Peter Jackson's Lord of the Rings films.
Lake Alta lies in the Remarkables near Queenstown in the South Island.
The lake is approximately 500 metres by 250 metres in size and freezes over in the winter months. Currently, it is used by skiers and snowboarders. It is also used by divers from time to time, who hold an annual ice dive there.
Ad blocker interference detected!
Wikia is a free-to-use site that makes money from advertising. We have a modified experience for viewers using ad blockers

Wikia is not accessible if you've made further modifications. Remove the custom ad blocker rule(s) and the page will load as expected.