This page is part of the Wikia tour.
The content below is from Main Page on this wiki.
Below this box you see the contents of our main page.


Even with 6,225 articles and 7,843 files, we still need YOUR help expanding and adding articles to the wiki!
---
---
If you're new to Wikis at FANDOM or are unsure how you can help, use the above links to get started.
To contribute a new article relating to The Lord of the Rings or Middle-earth, use the box below:
Thank you!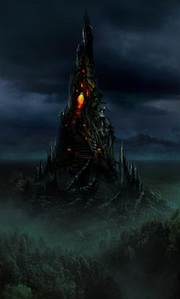 Dol Guldur, also known as the Hill of Dark Sorcery, was Sauron's stronghold and base of operations when he worked his sorcery in the wood under the name of The Necromancer. It was located south of Mirkwood for over twelve-hundred years in the Third Age.
The White Council long feared the power in Dol Guldur might be Sauron, but Saruman opposed assaulting it. However, Gandalf later went to Dol Guldur himself and discovered that the Necromancer was indeed Sauron. He then informed the White Council, and Saruman was unable to protest. The White Council attacked Dol Guldur, and Sauron, not yet powerful enough to challenge them, fled to Mordor.
Read More...

What games have you played before that is related to Middle-Earth?

 

What is your favorite ending credits song?

 
| | |
| --- | --- |
| | Smaug was a greedy, reddish-gold dragon of Middle-earth, who laid waste to Dale and captured the Lonely Mountain (Erebor) with all its treasure, which he gathered in a central hall and slept upon. Despite having accumulated such vast wealth, Smaug was intimately familiar with every last item within his hoard, and instantly noticed the theft of a relatively inconsequential item by Bilbo Baggins. |

Lord of the Rings
Loading RSS data...
The Hobbit
Loading RSS data...
Refresh
·
Read more

The One Wiki to Rule Them All, previously the Lord of the Rings Wiki, is Not in any way, shape, or form affiliated with Saul Zaentz, Middle-earth Enterprises, the Tolkien Estate, New Line Cinema, or Wingnut Films.


Copyrights and trademarks for the books, films, and other promotional materials are held by their respective owners and their use is allowed under the fair use clause of the Copyright Law.