This page is part of the Wikia tour.
The content below is from Main Page on this wiki.
Below this box you see the contents of our main page.

Even with 6,087 articles, and 7,491 files, we still need YOUR help expanding and adding articles to the wiki!
---
---
If you're new to Wikia, please use the above links to get started.
If you already have editing experience, and you have an article relating to Lord of the Rings to contribute, use the box below to create it:
Thank you!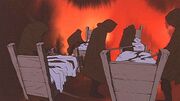 The J.R.R. Tolkien's The Lord of the Rings is the title of an animated film produced and directed by Ralph Bakshi, and released to theaters in 1978. It was an adaptation of the first half of J. R. R. Tolkien's The Lord of the Rings. Bakshi's most ambitious effort (and his most famous after his animated adaptation of the underground comic Fritz the Cat), the film was produced by Saul Zaentz's Fantasy Films, but distributed to theaters by United Artists.

The movie makes a few deviations from the book, but overall follows Tolkien's narrative quite closely. Many parts of the novel explaining the transition from one part of the plot to another were omitted which makes the middle part of the movie somewhat difficult to follow, if the viewer is unfamiliar with the story.
In the film's prologue it is suggested that Sauron learned the craft of ring-making after the 19 lesser rings were made whilst in the original story it is Sauron who teaches the Elven smiths this ability.
Another deviation suggests that the last alliance of men and elves was losing the war which contradicts the original story.
In the film, Gollum killed his friend Deagol in order to take control of the Ring. This is suggested by Gandalf in the book, but Tolkien does not confirm that this is actually the case.

What games have you played before that is related to Middle-Earth?

 

What is your favorite ending credits song?

 
Helm's Deep was a large valley in the north-western Ered Nimrais (White Mountains).

The valley was blocked over its entire width by the natural series of hills called Helm's Dike. Behind that lay the fortress of Aglarond or the Hornburg, at the entrance to the Glittering Caves.

Lord of the Rings
Loading RSS data...
The Hobbit
Loading RSS data...
Refresh
·
Read more
The One Wiki to Rule Them All, previously the Lord of the Rings Wiki, is Not in any way, shape, or form affiliated with Saul Zaentz, Middle-earth Enterprises, the Tolkien Estate, New Line Cinema, or Wingnut Films.


Copyrights and trademarks for the books, films, and other promotional materials are held by their respective owners and their use is allowed under the fair use clause of the Copyright Law.