!
Non-Canon Alert!
This article contains information, pictures or media from non-canonical sources. To find out more about what is considered canon see LOTR:Canon
!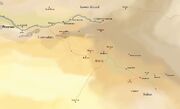 Korondaj was a location in Middle-earth within the Khand region.
Behind the scenes
Edit
Korondaj is only shown in an expanded map created for Middle-earth Role Playing by Iron Crown Enterprises.
Appearances
Edit