This article is a stub
Boromir says this article is "So small a thing. Such a little thing!"    Please expand it if you can.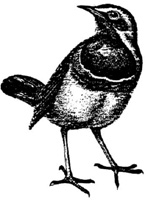 Kirinki was a small bird native to Númenor.
They were no bigger than wrens, scarlet colored with high piping voices that Men could barely hear. It is unknown what happened to them when the island was lost.[1]
References
Edit
↑ Unfinished Tales, Part Two: The Second Age, I: "A Description of the Island of Númenor"
Ad blocker interference detected!
Wikia is a free-to-use site that makes money from advertising. We have a modified experience for viewers using ad blockers

Wikia is not accessible if you've made further modifications. Remove the custom ad blocker rule(s) and the page will load as expected.