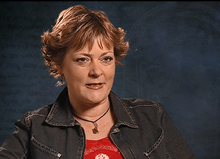 Jude Fisher (whose real name is Jane Johnson - born 1960) is an English fantasy writer, and former publisher for Allen and Unwin and HarperCollins, who authored all visual companions to Peter Jackson's Lord of the Rings trilogy and The Hobbit trilogy.
The most well-known Tolkien artists, Alan Lee, Ted Nasmith, and John Howe, were commissioned by Fisher between 1984 and 1992 to illustrate Tolkien's books (as published by Allen and Unwin or HarperCollins) and provide drawings for calendars.
Fisher's first own fantasy novel was Sorcery Rising, published in 2002.
She currently resides in Morocco.
Books written
Edit
External links
Edit
Ad blocker interference detected!
Wikia is a free-to-use site that makes money from advertising. We have a modified experience for viewers using ad blockers

Wikia is not accessible if you've made further modifications. Remove the custom ad blocker rule(s) and the page will load as expected.