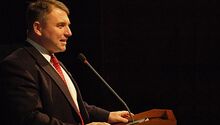 Joseph Pearce (born in 1961) is an English Catholic literary scholar and author, who has frequently written concerning C.S. Lewis, J.R.R. Tolkien, and G.K. Chesterton. He resides in the United States.
Pearce wrote Tolkien: Man and Myth in 1998, compiled and edited Tolkien: A Celebration in 1999, within which is featured his essay "Tolkien and the Catholic Literary Revival", and wrote Bilbo's Journey: Discovering the Hidden Meaning in The Hobbit in 2012.
External links
Edit
Ad blocker interference detected!
Wikia is a free-to-use site that makes money from advertising. We have a modified experience for viewers using ad blockers

Wikia is not accessible if you've made further modifications. Remove the custom ad blocker rule(s) and the page will load as expected.