Date of Birth
April 8, 1969 (46 years old)
Place of Birth
Vancouver, British Columbia, Canada
Ian Hughes (b. April 8, 1969 in Vancouver, British Columbia, Canada) is a Canadian-born New Zealand actor.
He played the part of Irolas, a non-canonical Man of Gondor in The Return of the King (film) in 2003.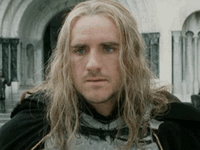 This article is a stub
Boromir says this article is "So small a thing. Such a little thing!"    Please expand it if you can.