Ad blocker interference detected!
Wikia is a free-to-use site that makes money from advertising. We have a modified experience for viewers using ad blockers

Wikia is not accessible if you've made further modifications. Remove the custom ad blocker rule(s) and the page will load as expected.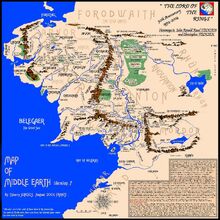 The History of Middle-earth is a 13-volume series of books that collect and analyse material relating to Middle-earth, compiled and edited by the son of J.R.R. Tolkien, Christopher Tolkien. Some of the content consists of earlier versions of already published works by Tolkien, while other portions are completely new material. These books are extremely detailed, to the point of documenting scraps of paper that have been erased multiple times with many footnotes. Christopher Tolkien has documented the history of the writing of the Middle-earth stories in as much detail as his father documented the fictional history of Middle-earth itself.
The first two books introduce readers to The Book of Lost Tales, a mythology for England from which Tolkien drew ideas that eventually became the 'Silmarillion' mythology. The next three books follow the history of the emerging early mythology usually known as The Silmarillion. The discussion of the published book is deferred until book ten. Books six through nine discuss the development of The Lord of the Rings, book nine's second half discussing the Númenor story (the first versions of which were covered in Book Five). Book ten and eleven discuss the Annals of Beleriand and Annals of Aman, which works were developed together with the Silmarillion tradition and which also served as source material for the published Silmarillion. Book twelve discusses the development of the Appendices to The Lord of the Rings, followed by some assorted essays from Tolkien's last years of life.
The thirteenth volume, The History of Middle-earth: Index, completely integrates all the indices from the other twelve books into one large index.
Translations around the World
Edit
| Foreign Language | Translated name |
| --- | --- |
| Afrikaans | Die Geskiedenis van Middelste-aarde |
| Amharic | መካከለኛ-የምድር ታሪክ |
| Arabic | تاريخ الأرض الوسطى |
| Azerbaijani | Orta Yerin Tarixi |
| Belarusian Cyrillic | Гісторыя Міжзем'е |
| Bengali | মধ্যম পৃথিবীর ইতিহাস |
| Bosnian | Povijest Međuzemlja |
| Bulgarian Cyrillic | Историята на средната земя |
| Burmese | အလယ်အလတ်မြေ၏သမိုင်း |
| Cambodian | ប្រវត្តិសាស្រ្តនៃផែនដីពាក់កណ្តាល |
| Catalan | La Història de la Terra Mitjana |
| Cebuano | Ang Kasaysayan sa mga tunga-tunga-yuta |
| Chinese | 中土世界的歷史 |
| Croatian | Povijest Međuzemlja |
| Czech | Historie Středozemě |
| Danish | Historien om Midgård |
| Dutch | De Geschiedenis van Midden-aarde |
| Esperanto | La Historio de Mezo-tero |
| Estonian | Keskmaa Ajalugu |
| Finnish | Keski-maan Historia |
| French | L'Histoire de la Terre du Milieu |
| Frisian | De Skiednis fan midden-ierde |
| Galician | A Historia da Terra-media |
| Georgian | შუახმელეთის ისტორია |
| German | Die Geschichte Mittelerdes |
| Greek | Η Ιστορία της Μέσης Γης |
| Gujarati | મધ્યમ પૃથ્વી ઇતિહાસ |
| Hausa | Tarihin Tsakiyar duniya |
| Hebrew | ההיסטוריה של הארץ התיכונה |
| Hindi | मध्य पृथ्वी के इतिहास |
| Hmong | Lub keeb kwm ntawm nruab nrab-lub ntiaj teb |
| Hungarian | Középfölde Históriája |
| Icelandic | Saga af Miðgarði |
| Indonesian | Sejarah Tengah-bumi |
| Irish Gaelic | Stair na lár-domhain |
| Italian | La Storia della Merra di mezzo |
| Japanese | 中つ国の歴史 |
| Javanese | Sajarah Tengah-bumi |
| Kannada | ಇತಿಹಾಸ ಮಧ್ಯಮ ಭೂಮಿಯ |
| Kazakh Cyrillic | орта-жер тарихы |
| Korean | 중간 대륙의 역사 |
| Kurdish | تهه‌ هیستۆری ۆف میددله‌-ه‌ارته (Arabic script) Li ser Dîroka Navîn-erd (Latin) |
| Laotian | ປະຫວັດສາດຂອງພາກກາງ, ແຜ່ນດິນໂລກ |
| Latvian | Vēsture Vidējā-zemes |
| Lithuanian | Iš Viduriniosios Žemėje Istorija |
| Luxembourgish | D'Geschicht vun Mëtt Äerd |
| Macedonian Cyrillic | историјата на Блискиот Земјата |
| Malay | Sejarah pertengahan bumi |
| Marathi | मध्य-पृथ्वी इतिहास |
| Maltese | L-istorja ta ' l-ert tan-nofs |
| Nepalese | मध्य-पृथ्वीको इतिहास |
| Norwegian | Historien om Midgard |
| Pashto | د منځني ځمکه د تاريخ |
| Persian | تاریخ از میانه زمین |
| Polish | Historia Śródziemia |
| Portuguese | A História da Terra-média |
| Punjabi | ਮੱਧ-ਧਰਤੀ ਦੇ ਇਤਿਹਾਸ ਨੂੰ |
| Romanian | Istoria Pământului de Mijloc |
| Russian | История Средиземья |
| Samoan | Le Talafaasolopito o le Lalolagi-ogatotonu |
| Scottish Gaelic | Eachdraidh de Meadhan-talamh |
| Serbian | историја средње земље (Cyrillic) Istorija Srednje Zemlje (Latin) |
| Sindhi | وچ ۾ زمين جي تاريخ |
| Sinhalese | මැද-පෘථිවිය ඉතිහාසය |
| Spanish | La historia de la Tierra Media |
| Sudanese | Nu Sajarah Tengah-bumi |
| Swahili | Historia ya Dunia-atikati |
| Swedish | Historia Midgård |
| Tajik Cyrillic | Таърихи Миёна-замин |
| Tamil | மத்திய பூமியின் வரலாறு |
| Telugu | మధ్య భూమి యొక్క చరిత్రలో |
| Thai | ประวัติศาสตร์มิดเดิลเอิร์ธ |
| Turkish | Orta Dünya Tarihi |
| Ukrainian Cyrillic | Iсторія Середзем'я |
| Urdu | مڈل-زمین کی تاریخ |
| Uzbek | Тҳе Ҳисторй оф Миддле-еартҳ (Cyrillic) Yaqin-erning Tarixi (Latin) |
| Welsh | Hanes Canol-ddaear |
| Xhosa | Yeembali KuMbindi-emhlabeni |
| Yiddish | די געשיכטע פון מיטל-ערד |