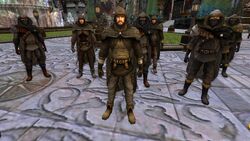 The Grey Company was a group of thirty-one Dúnedain Rangers of the North during the late Third Age.
The Grey Company was led by Halbarad and the twin sons of Elrond, Elladan and Elrohir. They traveled from the North seeking Aragorn at Galadriel's request. They bring advice from Elrond, and a banner made by Arwen. Their horses were strong and proud but rough-haired. As their name implies, they wear cloaks or mantles of grey colour and carry no symbols save for a white star on each of their brooches.
They accompanied Aragorn, Legolas, and Gimli through the Paths of the Dead and go with them to fight at Pelargir and in the Battle of the Pelennor Fields. It was at this battle that Halbarad fell after slaying many servants of Sauron. Later on, the Grey Company presumably accompanies Aragorn and an army to the Battle at the Black Gate, although few of them are said to have survived the battle.[1]
Portrayal in adaptations
Edit
Video games
Edit
The Grey Company was featured in The Lord of the Rings Online.
Translations around the World
Edit
Foreign Language
Translated name
Albanian
Kompania Gri
Amharic
ግራጫ ኩባንያ
Arabic

الرفقة الرمادية

Armenian
մոխրագույն ընկերությունը
Azerbaijani
Boz Şirkət
Basque
Konpainia Grisa
Bengali
ধূসর কোম্পানি
Bosnian
Siva Kompanija
Bulgarian Cyrillic
сива компания
Burmese
မီးခိုးရောင်ကုမ္ပဏီ
Cambodian
ក្រុមហ៊ុនប្រផេះ ?
Catalan
Companyia de Gris
Chinese
灰色公司
Cornish
Felshyp Glas ?
Croatian
Siva družina
Czech
Šedá družina
Danish
Grå Selskab
Dutch
Grijze Compagnie
Esperanto
Griza Kompanio
Estonian
Hall Kompanii
Faroese
Gráur Bólkur ?
Filipino
Abo Kumpanya
Finnish
Harmaa Komppania
French
Gris Société
Frisian
Grize Bedriuw
Icelandic
Grár Fyrirtæki
Irish Gaelic
Cuideachta Liath
Italian
Grigia Compagnia
Galician
Compañía Gris
Georgian
ნაცრისფერი კომპანია
German
Graue Schar
Greek
γκρι συντροφιά
Gujarati
ગ્રે કંપની
Hebrew
חברה אפורה
Hindi
ग्रे कंपनी
Hungarian
Szürke Sereg
Japanese
グレーカンパニー
Kannada
ಬೂದು ಕಂಪನಿ
Kazakh Cyrillic
Сұр компаниясы
Korean
회색 회사
Kyrgyz Cyrillic
боз компания
Laotian
ບໍລິສັດສີເທົາ
Latin
Vexillum Cinereo
Latvian
Pelēkais pulks
Lithuanian
Pilka Kompanija
Luxembourgish
Groen Firma
Macedonian Cyrillic
Греј на компанијата
Malay
Syarikat Kelabu
Malayalam
ചാര കമ്പനി
Maltese
Kumpanija Griż
Manx
Colught Lheeah
Maori
Kamupene Hina
Marathi
राखाडी कंपनी
Mongolian Cyrillic
саарал компани
Navajo
? łibá
Nepalese
ग्रे कम्पनी
Northern Sami
Ránes searvi ?
Norwegian
Grå Selskap
Pashto
خړ شرکت
Persian
شرکت خاکستری
Polish
Szara Drużyna
Portuguese
Empresa Cinzenta
Punjabi
ਗ੍ਰੇ ਕੰਪਨੀ
Romanian
Companie Gri
Romansh
Cumpagnia Grisch
Russian
Серый компании
Samoan
Kamupani Efuefu ?
Scottish Gaelic
Glas a 'chompanaidh
Serbian
Сива Фирма (Cyrillic) Siva Firma (Latin)
Sindhi
ڀورو ڪمپني
Sinhalese
අලු සමාගම
Slovak
Šedá Firma
Slovenian
Siva Podjetje
Spanish
Compañía Gris
Sudanese
Pausahaan Kulawu
Swedish
Grå Företaget
Tajik Cyrillic
Грей Ширкат
Tamil
சாம்பல் நிறுவனம்
Telugu
గ్రే కంపెనీ
Turkish
Gri Şirketi
Turkmen
Bölük Çal ?
Ukrainian Cyrillic
сірий компанії
Urdu
گرے کمپنی
Uzbek
Грей Чомпанй (Cyrillic) Kulrang Kompaniyasi (Latin)
Vietnamese
Đoàn quân xám
Welsh
Cwmni Llwyd
Xhosa
Inkampani Ngwevu
Yiddish
גרוי פֿירמע
References
Edit
Ad blocker interference detected!
Wikia is a free-to-use site that makes money from advertising. We have a modified experience for viewers using ad blockers

Wikia is not accessible if you've made further modifications. Remove the custom ad blocker rule(s) and the page will load as expected.