Giant Spiders
Talk

0
4,824pages on
this wiki
Giant Spiders
Dominions

Mordor, Mirkwood, Torech Ungol, Dol Guldur, Nan Dungortheb, Ered Gorgoroth, Nan Ungol

Languages

Unknown; Westron

Average height

Massive

Skin color

Dark

Hair color

None

Distinctions

Gigantic, dark, arachnid-like traits, lethal, venomous

Members

  [Source]
Great Spiders lived in Middle-Earth, particularly in dark and perilous places. One of the more prominent great spiders, Shelob, attacked and paralyzed Frodo Baggins near the end of The Two Towers (Lord of the Rings, Book Four, Chapter 9, "Shelob's Lair").
Description
Edit
Giant Spiders divide into three separate species.
Giant Spiders; a sentient race of giant spiders that lived in the South of Middle-Earth in the First Age. But by the Third Age, they lived everywhere except the South; including Mirkwood.  They are massive in size (boasting human size at least).  They are descended from the spider-creatures of the Ered Gorgoroth (Mountains of Terror). Like all arachnids, they have eight legs, many eyes, and are known for constructing large webs to trap their prey. After mating, the female often devours the male. The female will lay thousands of eggs, and the offspring will often devour her, and/or vice-versa. Since they congregated in Mirkwood after Sauron settled there; it proves that they, like many other evil creatures, are easily bent to the will of Dark Lords. This makes it likely that they served under both Morgoth and Sauron.
Next are Umaiar spiders; a subspecies of Umaiar (and by extension a sub-subspecies of Maiar) which included Ungoliant. There are those Maiar who took the form of giant spiders upon joining Morgoth. Apart from Ungoliant (who died in an attempt to devour herself) the fate of this race is unknown. However due to the fact that they are not seen in the first or second ages, it is most likely that they were wiped out.  
The Spawn of Ungoliant is the third race of Giant Spiders.  This race was spawned by Ungoliant after she fled to the South. She mated with and devoured the mortal giant spiders who lived there. These spiders, being half Demon; were bigger, stronger, and smarter than their mortal kin. They were also immortal. Due to their relation to Umaiar and mortal giant spiders; the Spawn of Ungoliant probably served under both Morgoth and Sauron.
Giant Spiders were once found in Mirkwood, as well as originating from the Ered Gorgoroth and Nan Dungortheb. Ungoliant, her descendants, and the Spiders of Mirkwood, could speak, though it is unknown if all spiders could. Like Orcs and Goblins, Giant Spiders were also known to detest light, which explains the purpose of their dark and gloomy homes, built to block out all light.
The first Dark Lord, Melkor, used Ungoliant to help him destroy the Two Trees of Valinor and steal the Silmarils. Ungoliant, who had an insatiable desire to devour light, asked for the Silmarils to be given to her. Melkor refused and she attempted to kill him. Ungoliant was subsequently driven off by Melkor's Balrogs, and she ultimately wandered across Middle-Earth, consuming anything that gave off light, such as gemstones; and often mated with other large spiders. Her offspring were a great bane on the world in later years. She was described as surrounded by "an aura of darkness". Always hungry, Ungoliant ended up eating herself.
The Hobbit Bilbo Baggins, and his thirteen Dwarf companions encountered giant spiders in Mirkwood forest on their Quest to the Lonely Mountain. Only Bilbo's magic ring and an Elven blade (Sting) allowed them to escape being eaten.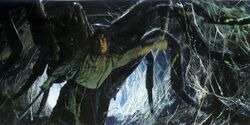 Frodo Baggins and Sam Gamgee encountered Ungoliant's daughter, Shelob, in her lair during their quest to destroy the One Ring. Frodo was ambushed by the spider twice, and was paralyzed by her poison on the second encounter, but Sam used Sting to attack Shelob, and wounded her, forcing her to flee the scene. It is unknown if she died from her wounds.
Portrayal in Adaptations
Edit
Giant spiders appear briefly in the first Hobbit film, where they are seen attacking Radagast's home in Rhosgobel, only to retreat back into the forest, seemingly repelled by his magic. Radagast later tells Gandalf that they came from Dol Guldur.
Video Games
Edit
Giant spiders appear in many Lord of the Rings video games, including The Return of the King, The Battle For Middle Earth 2, and it's expansion pack.
For The Hobbit video game three spiders were invented named Wicked, Wild, and Wrath. These three spiders are the queens of the Spiders of Mirkwood and are three of the bosses of the Flies And Spiders level.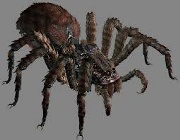 The Lord of the Rings: War in the North
features a giant spider named
Saenathra
, who took Radagast captive, and must be defeated to free him. Like the Mirkwood spiders from the Hobbit, she has the ability to speak.
Influence of spiders in Tolkien's life
Edit
Contrary to popular belief, the reason that Tolkien featured spiders so prominently in his stories was not because he was bitten by a tarantula when he was young, but rather because his son was afraid of them.
Behind the scenes
Edit
Games Workshop
Edit
On the Website they have Giant Spiders but with two which means this is not a pack. These spiders look like either Shelob or a Spiderling but they have to their side the Spider Queen & Swarm. They have many colors like in the photo (most people painted these spiders differently). Today they cost £8.20 & are available online and in stores.
External link
Edit