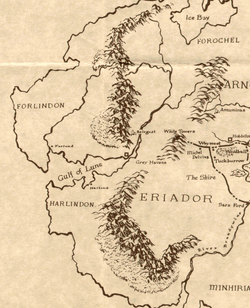 Forlindon was the northern part of Lindon which is separated from Harlindon, the southern part by the Gulf of Lune along the coasts of western Middle-earth.
The Elven-haven and harbour of Forlond lay on the southern coast of the region, and was ruled by Gil-galad.[1]
Like the rest of Lindon it is a remnant of the Beleriand that sank under the Great Sea after the War of Wrath, at the end of the First Age.[2]
Etymology
Edit
The name Forlindon possibly means "North Lindon", from the Quenya word formen and Sindarin words for, forn, forod ("north") and Lindon.[3][4]
Translations around the World
Edit
| Foreign Language | Translated name |
| --- | --- |
| Amharic | ፎርሊንዶን |
| Arabic | فورليندون |
| Armenian | Ֆորլինդոն |
| Belarusian Cyrillic | Форліндон |
| Bengali | ফোরল্যান্ডন ? |
| Bulgarian Cyrillic | Форлиндън |
| Greek | Φορλινδον |
| Gujarati | ફોર્લિન્દોન |
| Hebrew | פורלינדון |
| Hindi | फोर्लिंदों |
| Kannada | ಫಾರ್ಲಿಂಡಾನ್ |
| Kazakh | Форліндон (Cyrillic) Forlindon (Latin) |
| Kyrgyz Cyrillic | Форлиндон |
| Lao | ຟໂrຣິນດໂນ ? |
| Macedonian Cyrillic | Форлиндон |
| Marathi | फॉलीकंडन |
| Mongolian Cyrillic | Форлиндон |
| Nepalese | फ़ोर्लिन्दोन |
| Pashto | فورلیندون ? |
| Persian | فورلیندون |
| Russian | Форлиндон |
| Serbian | Форлиндон (Cyrillic) Forlindon (Latin) |
| Sinhalese | ෆොර්ලිඳොන් |
| Tamil | போர்லிண்டோன் |
| Telugu | ఫోర్లిందోన్ |
| Ukrainian Cyrillic | Форліндон |
| Urdu | فورلانڈون |
| Uzbek | Форлиндон (Cyrillic) Forlindon (Latin) |
| Yiddish | פאָרלינדאָן |
References
Edit