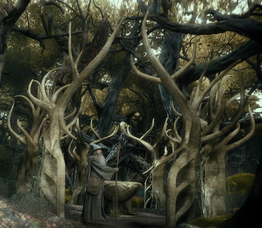 Forest Gate
was the western entrance to the northern part of the
Forest
of
Mirkwood
beginning with the
Elven-path
.
It is described as an arch-like opening made by two large ivy layered, lichen covered trees bearing only a few blackened leaves, that had leant together forming a dark narrow tunnel.
In the HobbitEdit
Thorin and Company passed through the Forest Gate on the twenty-fifth of July 2941 after Gandalf departed with the ponies.[1][2][3]
References
Edit
↑ The Atlas of Middle-earth, The Hobbit, "Introduction"
↑ The Hobbit, Chapter VIII: "Flies and Spiders"
Ad blocker interference detected!
Wikia is a free-to-use site that makes money from advertising. We have a modified experience for viewers using ad blockers

Wikia is not accessible if you've made further modifications. Remove the custom ad blocker rule(s) and the page will load as expected.