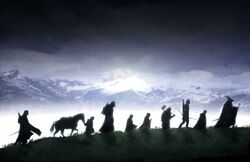 Fellowship! is a musical parody stage play based on the book and film of The Fellowship of the Ring, from J.R.R. Tolkien's The Lord of the Rings. It was written by Kelly Holden and Joel McCrary, with original music by Allen Simpson. It was first performed at the El Portal Forum Theater in North Hollywood, California.
The play follows the major events of story but is more a parody of the film than the original book. It re-imagines Bilbo Baggins as an aged Jewish comedian, the Balrog as a sleep-deprived diva, the battle on Weathertop as a West Side Story-style gang fight, and Rivendell as a Scientologist stronghold. Part live action, part puppet show and part animation, the show removes or summarizes parts of the movie that would slow it down. While played for laughs, the music features original compositions instead of parodies, and the song styles range from cheesy 1980s rock to sleazy cabaret numbers. The lyrics were improvised and written by the initial performers during rehearsals.
The play had a successful six-week run in early 2005 and played several sold-out shows at the 2005 San Diego Comic Con. L.A. Weekly named it a "Pick of the Week," and both Backstage West and the Los Angeles Times listed it as a "Critic's Choice."
On February 8, 2006, the play was nominated in three categories in L.A. Weekly's annual Theater Awards - Musical of the Year, Musical Direction, and Comedy Ensemble. Winners will be named April 10, 2006.
External links
Edit
Ad blocker interference detected!
Wikia is a free-to-use site that makes money from advertising. We have a modified experience for viewers using ad blockers

Wikia is not accessible if you've made further modifications. Remove the custom ad blocker rule(s) and the page will load as expected.