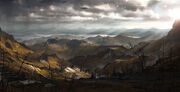 The Ettendales was a cold, frozen land north of Rivendell, adjacent to the Ettenmoors and the Coldfells,
The Ettendales was a dangerous land inhabited by Trolls and Giants. These were cold lands far to the north of Rivendell and little known to any but the Trolls that inhabited them. Aragorn's grandfather Arador had ventured into these hills and dales but he was captured and killed by the Snow-trolls that lurked there.[1]
Etymology
Edit
Ettendales are literally 'giant-valleys'. It's unclear whether the location in fact is a home to giants.
'etten'- comes from Old English eoten, meaning Giant.[citation needed]
References
Edit
↑ Ettendales at Glyphweb.com