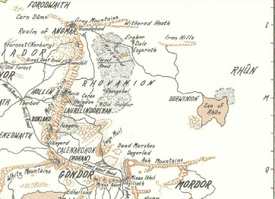 Dorwinion, also known as Dor-Winion, was a land in the vales of the Celduin, northwest of the Sea of Rhûn, that was famous for its great gardens and as the home of the finest wines in all of Middle-earth.
Description and inhabitants
Edit
Its fertile climate, perfect latitudinal positioning, and close proximity to the Sea of Rhûn[1] made Dorwinion an ideal location for an agrarian society. Its people were descendants of the Edain, and they had close ties to the Northmen of Dale in genealogy as well as Avari elves.[citation needed]
The wines of Dorwinion were so high-quality and widely enjoyed that they were imported even by the Elves of the Halls of Thranduil in Mirkwood,[2] the Men of Dale and Laketown, and the Dwarves of the Lonely Mountain and of the Iron Hills.
Etymology
Edit
Dorwinion comes from the Sindarin dor ("land")[3] and the Westron winion ("of wine").[4]
References
Edit
Ad blocker interference detected!
Wikia is a free-to-use site that makes money from advertising. We have a modified experience for viewers using ad blockers

Wikia is not accessible if you've made further modifications. Remove the custom ad blocker rule(s) and the page will load as expected.