Ad blocker interference detected!
Wikia is a free-to-use site that makes money from advertising. We have a modified experience for viewers using ad blockers

Wikia is not accessible if you've made further modifications. Remove the custom ad blocker rule(s) and the page will load as expected.
This article is a stub
Boromir says this article is "So small a thing. Such a little thing!"    Please expand it if you can.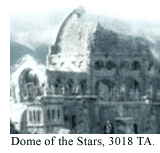 The Dome of Stars was a great beautiful dome built by Elendil in the city of Osgiliath, on top of a bridge that crossed the river Anduin.
Within this building was kept Osgiliath's Palantír. It was destroyed by fire when the city was burned and ravaged during the Kin-strife in Gondor, and the Palantír was lost as well.
Translations around the World
Edit
| Foreign Language | Translated name |
| --- | --- |
| Afrikaans | Koepel van Sterre |
| Arabic | قبة النجوم |
| Armenian | գմբեթը Աստղերի |
| Bosnian | Kupola od Zvijezda |
| Bulgarian Cyrillic | Купол на звездите |
| Burmese | ကြယ်၏အမိုးခုံး |
| Catalan | Cúpula d'estels |
| Chinese | 圆顶的星星 |
| Croatian | Kupola od Zvijezda |
| Czech | Kopule Hvězd |
| Danish | Kuppel af Stjerner |
| Dutch | Koepel van Sterren |
| Estonian | Kuppel Tärnide |
| Finnish | Tähtikupoli (Tähtien Kupoli) |
| French | Dôme D'étoiles |
| Georgian | ვარსკვლავოვანი გუმბათი |
| German | Sternenkuppel |
| Greek | Θόλο των αστεριών |
| Hebrew | כיפת הכוכבים |
| Hindi | सितारों का गुंबद |
| Hungarian | Kupola a Csillagok |
| Indonesian | Kubah Bintang |
| Irish Gaelic | Cruinneachán na Réaltaí |
| Italian | Cupola di Stelle |
| Japanese | 星のドーム |
| Korean | 별의 돔 |
| Latvian | Kupols no Zvaigznes |
| Lithuanian | Žvaigždžių Kupolu |
| Malay | Kubah Bintang |
| Marathi | स्टार घुमट |
| Maltese | Il-koppla ta ' stilel |
| Norwegian | Kuppel av Stjerner |
| Pashto | د ستوري سرپوښ |
| Persian | گنبد ستاره |
| Polish | Kopuła Gwiazd |
| Portuguese | Cúpula de Estrelas |
| Punjabi | ਸਿਤਾਰੇ ਦੇ ਡੋਮ |
| Romanian | Cupola de Stele |
| Russian | Купол Звезд |
| Serbian | Доме оф Старс (Cyrillic) Kupola od Zvezda (Latin) |
| Slovak | Kopule Hviezd |
| Slovenian | Kupola od Zvezd |
| Spanish | Cúpula de estrellas |
| Swahili | Kuba ya Nyota |
| Swedish | Kupol av Stjärnor |
| Thai | โดมดาว |
| Tongan | Ko e tumu'aki fuopotopoto 'o e ngaahi fetu'u |
| Ukrainian Cyrillic | Купол зірок |
| Urdu | ستارے کے گنبد |
| Uzbek | Юлдузлар Гумбаз (Cyrillic) Yulduzlar Gumbaz (Latin) |
| Vietnamese | Các mái vòm của ngôi sao |
| Welsh | Dôm o Sêr |