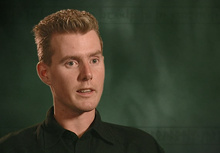 Daniel Falconer was a Senior Designer of Weta Workshop who worked on weapon and armor design and sculpting for Peter Jackson's Lord of the Rings films and The Hobbit: An Unexpected Journey.
For The Return of the King, he designed the final idea for Merry's circular, Rohirric shield. This design along with many others are showcased in Gary Russell's The Art of The Return of the King, accompanied by Falconer's own comments.
In 2003, Falconer and Richard Taylor provided the introduction to the book The Lord of the Rings: Weapons and Warfare.
Ad blocker interference detected!
Wikia is a free-to-use site that makes money from advertising. We have a modified experience for viewers using ad blockers

Wikia is not accessible if you've made further modifications. Remove the custom ad blocker rule(s) and the page will load as expected.