Dís
Talk

3
4,821pages on
this wiki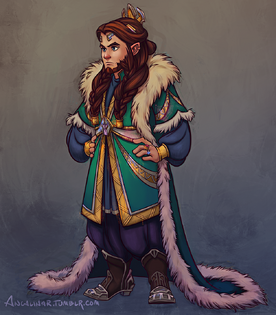 Dís (TA 2760 - ?) was a female dwarf of Durin's Folk.
Biography
Edit
She was the daughter of Thráin II and youngest sister of Thorin Oakenshield and Frerin, granddaughter of Thrór, and mother of Fíli and Kíli. She is the only dwarf-woman ever named by Tolkien, in homage to her sons' valiant deaths in the Battle of the Five Armies.[1]
Dís was the only Dwarf woman to ever be named in Tolkien Mythology.
References
Edit
↑ The Lord of the Rings: Appendix A, "Durin's Folk"
External link
Edit