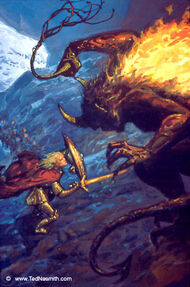 Cirith Thoronath was a location through which refugees from the Fall of Gondolin made their escape after passing through Idril's Secret Way. It was here that they were set upon by a Balrog, who was challenged by Glorfindel, leading to a fierce battle between the two. After ruining its helmet and piercing its belly, Glorfindel was dragged by the demon over a nearby cliff, with both falling to their deaths. [1]
References
Edit
Ad blocker interference detected!
Wikia is a free-to-use site that makes money from advertising. We have a modified experience for viewers using ad blockers

Wikia is not accessible if you've made further modifications. Remove the custom ad blocker rule(s) and the page will load as expected.