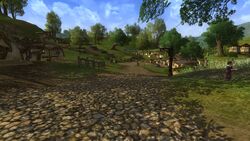 The Bywater Road was a road in the Shire that ran off the Great East Road through Bywater and beyond.
The road split off from the Great East Road about four or five miles from the center of the Shire. It then proceeded through Bywater and Hobbiton following The Water for about fifteen miles and finally ended where it split off into other roads leading to the towns of Little Delving, Nobottle, and Needlehole.
According to The Atlas of Middle-earth, the road ran for approximately thirty miles.[1][2][3]
During the War of the Ring, the Hobbits led by Merry and Pippin ambushed a band of Ruffians on the Bywater Road and defeated them just outside of it.[1][2][3]
References
Edit
↑ 2.0 2.1 The Atlas of Middle-earth, Regional Maps, "The Shire"
↑ 3.0 3.1 The Atlas of Middle-earth, The Lord of the Rings, "The Battle of Bywater"