This article or section has been flagged for a rewrite.

Reason: no reason given
Please rewrite according to the policies, to meet the One Wiki to Rule Them All's standards.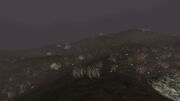 The Brown Lands, also called the Noman-Lands, covered the expanse between the Emyn Muil and Mirkwood.
They were a barren and treeless land. Entwives once made their gardens there, but were driven away by the threat of Sauron.
The land was ruined by the war between Sauron and the Last Alliance at the end of the Second Age.
Translations around the world
Edit
| Foreign Language | Translated name |
| --- | --- |
| Albanian | Tokat Kafe ? |
| Amharic | ቡናማ አገሮች |
| Arabic | الأراضي البني |
| Armenian | բրուն լանդս ? |
| Basque | Lurrak Marroia |
| Belarusian | карычневыя зямлі |
| Bengali | ব্রাউন জমি |
| Bosnian | Smeđa Zemljišta |
| Bulgarian | кафяви земи |
| Catalan | Terres Marrons |
| Chinese | 褐色土地 |
| Croatian | Smeđa Zemljišta |
| Corsican | Terri Marroni |
| Czech | Hnědé Země |
| Danish | Brune Jorder |
| Dari | بروون لاندس |
| Dutch | Bruine Landen |
| Esperanto | Bruna Landoj |
| Estonian | Pruun Maad |
| Finnish | Ruskea Maat |
| French | Terres Brunes |
| Galician | Terras Marrón |
| German | Die Braunen Lande |
| Greek | καφέ εδάφη |
| Gujarati | ભુરો જમીનો |
| Hebrew | אדמות חומות |
| Hindi | भूरे रंग की भूमि |
| Hungarian | Barnaföldek |
| Icelandic | Brúnn Lendir |
| Irish Gaelic | Tailte Donn |
| Italian | Terre Brune |
| Japanese | 茶色の土地 |
| Javanese | Bantala Coklat |
| Kannada | ಕಂದು ಭೂಮಿಯನ್ನು |
| Kazakh | қоңыр жерлер |
| Korean | 갈색 땅 |
| Kurdish | برۆون لاندس (Arabic script) Axa ? (Latinised) |
| Kyrgyz | күрөң жерлер |
| Latvian | Brūnās Zemes |
| Lithuanian | Rudos Žemių |
| Luxembourgish | Brong Konfiskéiert |
| Macedonian | Броwн Ландс |
| Marathi | तपकिरी जमिनी |
| Manx | Thallooinyn Dhone |
| Mongolian | бор Ландс |
| Navajo | Yishtł'izh Bikéyah ? |
| Nepali | खैरो मुलुकमा |
| Norwegian | Brune Land |
| Pashto | نصواري ځمکو |
| Persian | سرزمین قهوه ای |
| Polish | Brązowe Ziemie |
| Portuguese (Brazil) | Terras Castanhas |
| Punjabi | ਭੂਰੇ ਜ਼ਮੀਨ |
| Romanian | Terenuri Brune |
| Romansh | Bregn Terra ? |
| Russian | Коричневые Земли |
| Scottish Gaelic | Donn Fearann |
| Shona | Shava Nyika |
| Siamese (Thai) | ดินแดนสีน้ำตาล |
| Sindhi | ناسي زمينون |
| Sinhala | දුඹුරු ඉඩම් |
| Slovak | Hnedé Krajiny |
| Slovenian | Rjave Zemljišča |
| Spanish | Tierras Marrones |
| Sudanese | Lemahna Coklat |
| Swahili | Ardhi Kahawia |
| Swedish | Bruna Landar |
| Tajik | заминҳои Браун |
| Tamil | பழுப்பு நிலங்களில் |
| Telugu | గోధుమ భూములు |
| Turkish | Kahverengi Topraklar |
| Turkmen | Go–ur ? |
| Ukrainian | коричневі землі |
| Urdu | بھوری زمینوں |
| Vietnamese | Vùng đất nâu |
| Welsh | Gwinau Tiroedd ? |
| Yiddish | ברוין לענדער |