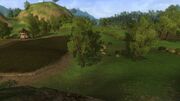 Bridgefields was a region in the Eastfarthing of the Shire located near the Brandywine bridge. It is crossed by The Water.
It probably includes the lands between Quarry, the Budge ford, the townships of Whitfurrows, and The Yale.
The Bolger family lived in this land mostly around the Budge ford.
References
Edit
External link
Edit