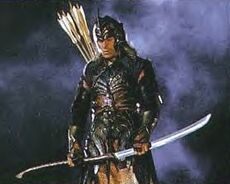 Arrows are shot by bows and crossbows and were used by many armies of Middle-earth, especially the elves, but also by the Men of Rohan, Gondor, Dale, and those of Mordor.
In Moria, an orc arrow bounced off Frodo's mithril chainmail, while another stuck through Gandalf's hat.
The Red Arrow was a way Gondor summoned its allies in time of need.
Bard the Bowman, of Esgaroth, had a unique Black Arrow, which he claimed he always retrieved every time he shot it.
Arrows were the very weapons that ended vile enemies such as Smaug and the War of the Ring, and when the Hobbits of the Shire shot Gríma Wormtongue dead after he killed Saruman.
External link
Edit