{{{image}}}
{{{caption}}}
Year ascended to the throne
Date of death
Still alive
Anairë was an Elf of Valinor and the wife of Fingolfin.
Biography
Edit
Little is known of Anairë, only that she did not choose to follow her husband to Middle-earth during their departure from Aman. They had four children during the Noontide of Valinor, namely Fingon, Turgon, Aredhel, and Argon. Anairë was known to be friends with Eärwen, Finarfin's wife.[1] It is assumed that she still resides in Aman along with all the other Elves of Valinor.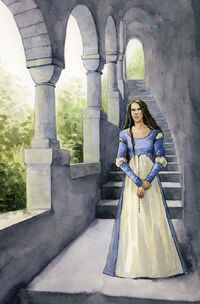 Etymology
Edit
In Quenya, Anairë means Holiest, from airë ("holy") and an-, a superlative prefix.[1]
House of Fingolfin
Edit

Other versions in the legendarium
Edit
Anairë does not appear in the Silmarillion and Fingolfin is given three children but no mention of a named wife.
In an early manuscript, her name was spelled as "Alaire". In another, she was identified as a Vanya who remained in Túna, who would later be Elenwë, Turgon's wife.[2]
References
Edit
↑ 1.0 1.1 The History of Middle-earth, Vol. XII, The Peoples of Middle-earth, "The Shibboleth of Fëanor"
↑ The History of Middle-earth, Vol. XI: The War of the Jewels, Part Three: The Wanderings of Húrin and Other Writings..., III. "Maeglin"