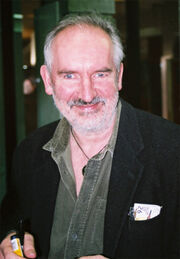 Alan Lee (b. August 20, 1947, Dartmoor, Devon, England) is an English book illustrator and movie conceptual designer.
Biography
Edit
He has illustrated several fantasy books such as the centenary edition of The Lord of the Rings, Faeries (with Brian Froud), The Mabinogion, Castles and Merlin Dreams. He won the Kate Greenaway Medal for illustration in 1993 for Black Ships before Troy and the Best Artist Award at the World Fantasy Awards of 1998.
Lee and John Howe were the lead artists of Peter Jackson's The Lord of the Rings movies. He illustrated many of the scenarios for the movies, including objects and weapons for the actors. In 2004 he won an Academy Award for Best Art Direction for his work on the third film in the trilogy, The Return of the King. He also made two cameo appears in both The Fellowship of the Ring and The Two Towers. Lee has also worked as a conceptual designer on the films Legend, Erik the Viking and King Kong and the television miniseries Merlin.
Illustration appearances
Edit
Drawn for the publication
Edit
Merely featured in the publication
Edit
Cameo appearances
Edit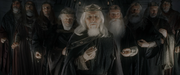 Alan Lee played one of the nine Kings of Men (who eventually became the Nazgûl) in the Prologue of The Fellowship of the Ring, a Man of Rohan in The Two Towers, and a Lake-town musician in The Hobbit: The Desolation of Smaug, but all three roles were uncredited.[1]
References
Edit
External links
Edit
Ad blocker interference detected!
Wikia is a free-to-use site that makes money from advertising. We have a modified experience for viewers using ad blockers

Wikia is not accessible if you've made further modifications. Remove the custom ad blocker rule(s) and the page will load as expected.