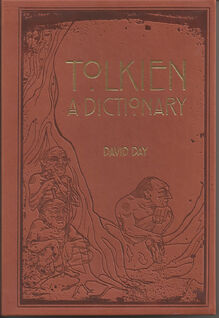 A Dictionary of Tolkien (ISBN 9781607109693) is a glossary-book written by David Day.
The book was first published on the 1st of January 2013. The book covers all the different peoples, locations, cities etc. of Middle-earth in alphabetical order with provided explanations. The book does not give much new information, however, because almost all information is gathered from Day's previous Middle-earth compendiums.
Ad blocker interference detected!
Wikia is a free-to-use site that makes money from advertising. We have a modified experience for viewers using ad blockers

Wikia is not accessible if you've made further modifications. Remove the custom ad blocker rule(s) and the page will load as expected.