Even with 6,197 articles, and 7,752 files, we still need YOUR help expanding and adding articles to the wiki!
---
---
If you're new to Wikia, please use the above links to get started.
If you already have editing experience, and you have an article relating to Lord of the Rings to contribute, use the box below to create it:
Thank you!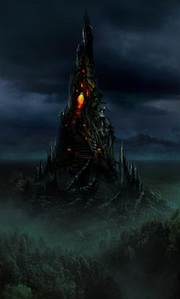 Dol Guldur, also known as the Hill of Dark Sorcery, was Sauron's stronghold and base of operations when he worked his sorcery in the wood under the name of The Necromancer. It was located south of Mirkwood for over twelve-hundred years in the Third Age.
The White Council long feared the power in Dol Guldur might be Sauron, but Saruman opposed assaulting it. However, Gandalf later went to Dol Guldur himself and discovered that the Necromancer was indeed Sauron. He then informed the White Council, and Saruman was unable to protest. The White Council attacked Dol Guldur, and Sauron, not yet powerful enough to challenge them, fled to Mordor.
Read More...

What games have you played before that is related to Middle-Earth?

 

What is your favorite ending credits song?

 
Helm's Deep was a large valley in the north-western Ered Nimrais (White Mountains).

The valley was blocked over its entire width by the natural series of hills called Helm's Dike. Behind that lay the fortress of Aglarond or the Hornburg, at the entrance to the Glittering Caves.

Lord of the Rings
Loading RSS data...
The Hobbit
Loading RSS data...
Refresh
·
Read more



The One Wiki to Rule Them All, previously the Lord of the Rings Wiki, is Not in any way, shape, or form affiliated with Saul Zaentz, Middle-earth Enterprises, the Tolkien Estate, New Line Cinema, or Wingnut Films.


Copyrights and trademarks for the books, films, and other promotional materials are held by their respective owners and their use is allowed under the fair use clause of the Copyright Law.
Ad blocker interference detected!
Wikia is a free-to-use site that makes money from advertising. We have a modified experience for viewers using ad blockers

Wikia is not accessible if you've made further modifications. Remove the custom ad blocker rule(s) and the page will load as expected.