Even with 6,353 articles and 8,201 files, we still need YOUR help expanding and adding articles to the wiki!
---
---
If you're new to Wikis at FANDOM or are unsure how you can help, use the above links to get started.
To contribute a new article relating to The Lord of the Rings or Middle-earth, use the box below:
Thank you!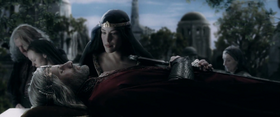 The Gift of Men refers to a gift of Ilúvatar to his Younger Children, which remains a source of some confusion for Tolkien enthusiasts. The concept includes both mortality, leading to death of old age, and free will. Below are two interpretations of the nature and extent of the Gift of Men as articulated by Tolkien.
Ilúvatar willed that the spirits or hearts of Men are not content within Arda, and find no rest therein, and therefore seek beyond the world and its confines. They are not bound to the Circles of the World, as the Elves and all other creatures of Arda are bound to the Earth. The spirits of Men truly leave the physical world, and do not return. Thus their fates are completely sundered from that of the Elves, who do not die until the world dies, unless slain by violence or ill chance, or by wearying at the last of the passage of centuries. But as the years grow long and Time wears, even the Valar will come to envy the gift of Ilúvatar to the race of Men, that of liberation from the physical world, and the inevitability of loss and sorrows that must come with this existence within Arda.
Read More...

What games have you played before that is related to Middle-Earth?

 

What is your favorite ending credits song?

 
| | |
| --- | --- |
| | Esgaroth upon the Long Lake, also known as Lake-town, is a community of Men in the north eastern part of Middle-earth. The town is constructed entirely of wood and stands upon wooden pillars sunk into the bed of the Long Lake, south of the Lonely Mountain and west of Mirkwood. |

Lord of the Rings
Loading RSS data...
The Hobbit
Loading RSS data...
Refresh
·
Read more



The One Wiki to Rule Them All, previously the Lord of the Rings Wiki, is Not in any way, shape, or form affiliated with Saul Zaentz, Middle-earth Enterprises, the Tolkien Estate, New Line Cinema, or Wingnut Films.


Copyrights and trademarks for the books, films, and other promotional materials are held by their respective owners and their use is allowed under the fair use clause of the Copyright Law.